---

Bart Simpson Mad about Sergio
Bongo Comics Press Release - July 14, 2009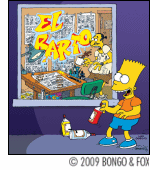 Sergio Aragonés (MAD Magazine, Groo the Wanderer) will become a regular featured artist and writer in Bart Simpson comics beginning with issue #50. Sergio Aragonés will provide the entire contents of Bart Simpson #50 as well as the cover art. The issue will include an eleven-page main story entitled "The Simpson Project." Mr. Aragonés will also contribute a new and ongoing feature entitled "Maggie's Crib," a series of pantomime stories much in the vein of his classic three-page "A Mad Look At..." feature found in MAD Magazine. Sergio will also be a contributor of stories to the Bart Simpson title as well as other Bongo Comics Group titles on a regular basis.
"I have been a Simpsons fan from the very beginning," says Sergio Aragonés. "I watch the show, read the comics, and collect everything that has come out, so imagine the pleasure to now be writing and drawing my favorite family... I couldn't be happier!"
Bill Morrison, Bongo Comics Creative Director, says, "We've put some of the funniest characters ever created in the hands of the world's funniest cartoonist. I predict it'll be just like that movie The Perfect Storm, only hilarious."
"Sergio's the best," says Matt Groening, Bongo Comics founder and publisher, "and it's an honor to work with him."
Sergio Aragonés is certainly the most honored, having won every major award in the profession, including the National Cartoonists Society's Reuben Award and the Will Eisner Hall of Fame Award. One of his Eisner awards was earned for his first collaboration with Bongo Comics in Bart Simpson's Treehouse of Horror #5 in 2000. This story is currently available in the "Bart Simpson's Treehouse of Horror Spine-Tingling Spooktacular" reprint collection.
Aragonés has contributed to every issue of MAD Magazine since January 1963 with the exception of one (due to an error at the post office). For more information about the artist, visit his official site.
Bart Simpson #50 will be released on October 28, 2009. Bart Simpson is a bimonthly comic book launched in 2000.

Anniversary Special in 3-D on Ice
Fox Press Release & blog - July 13, 2009


Academy Award-nominated filmmaker Morgan Spurlock ("Super Size Me," "30 Days") is set to produce and direct "The Simpsons 20th Anniversary Special in 3-D on Ice" airing Thursday, January 14, 2010 on Fox. The documentary special will be the momentous conclusion to the "Best. 20 Years. Ever.," a year-long global celebration of The Simpsons that launched in January 2009 and culminates on the 20th anniversary of the series' debut.
In "The Simpsons 20th Anniversary Special in 3-D on Ice", Spurlock will examine the cultural phenomenon of The Simpsons in his distinctive and innovative style. The special will document how the world sees The Simpsons and how the Simpson family has seen the world for two decades.
"When they first called me about this, I thought it was a prank and I hung up," said Spurlock. "And then my agent called back and said, 'No, no, this is for real,' at which point I fainted. Then when I woke up, I called everyone I knew because it was the coolest thing I could ever get to do in my career."
Morgan Spurlock has built a career that spans film, television and web programming. His first feature-length documentary, "Super Size Me," won the Documentary Directing Award at the Sundance Film Festival in 2004 and was nominated for an Academy Award the following year. In 2005, Spurlock formed his Manhattan-based film, television and web production company, Warrior Poets, which is devoted to making socially significant and simultaneously entertaining work. Warrior Poets has produced the feature documentaries "The Third Wave," "What Would Jesus Buy?" and "Where in the World Is Osama Bin Laden?".
Also you have an opportunity to appear in the special. Spurlock will be searching for Simpsons impersonators on July 25 in San Diego, CA, near the annual Comic-Con event. More information on this special audition is available at Fox.com blogs.
Please note the special is neither in 3-D nor on ice.


Twelfth Season Coming to DVD
By Jouni Paakkinen (jouni@snpp.com) - July 7, 2009

The twelfth season of The Simpsons hits DVD shelves on August 18, nearly ten months after the release of the previous boxed set.
The Complete Twelfth Season DVD set, featuring all 21 episodes from the series' twelfth season (2000-2001), will be issued in a character's head – this time, the Comic Book Guy. However, the set will also be available in a standard box in addition to the 'head' packaging for those who prefer them. Both sets have a suggested retail price of $49.98.
Once again, the package is packed with bonus features, as collectors of the series would expect. As ever, the primary bonus on this set is the collection of commentary tracks – one for each episode – featuring banter from a different collection of cast and crew on each episode. Participants include Matt Groening, show runner Mike Scully, David Silverman, Al Jean, Hank Azaria and Yeardley Smith amongst others.
There are many other special features too: season twelve will also feature deleted scenes for many of the episodes, illustrated commentaries (which allow the participants to sketch and draw diagrams on the screen whilst the animatic plays), sketch galleries, several featurettes – including a "Comic Moment" with Matt Groening and a Global Fanfest report, Animation Showcases, and Simpsons commercials from Butterfinger, Burger King and Red Rooster.
The 21 episodes will be spread across four discs, and presented in 1.33:1 full frame with DD 5.1 sound in English, as well as DD 2.0 sound in French and Spanish, and English and Spanish subtitles, as with previous releases.
A disc-by-disc breakdown of the set is available on our DVD News page.


High Definition Simpsons
By Jouni Paakkinen - January 27, 2009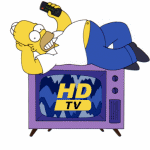 On February 15, Fox airs "Take My Life, Please" – the 10th episode of the 20th season, but actually the first episode of the 20th season production run, as its production code LABF01 suggests. The episode brings some major changes to the visual look of the show. From this episode onwards, the show is produced and aired – where available – in high definition format, which will add more detail and clarity to the picture. It also means that the aspect ratio gets changed from the traditional 4:3 to 16:9 widescreen.
These improvements will please especially those with a HD television set and reception. The standard definition broadcast will be letterboxed.
The new aspect ratio also required giving a facelift to the iconic opening sequence of the show, originally penned by David Silverman in April 1989 as his very first job for the 30-minute show. It was reanimated for the second season to adapt to the changed look of the show, and has now been yet again reanimated for the HD era, but also slightly rewritten. It will be basically similar, but the animators have tweaked it a bit and added some extra visuals.
Naturally this also means that eventually the 20th season will be released in HD Blu-Ray format instead of, or in addition to, DVD.

Fox Celebrates 20th Anniversary
Fox Press Release - January 13, 2009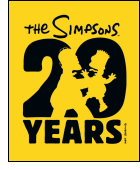 The 1990s introduced us to rollerblading, grunge music, slap bracelets and a yellow animated family from Springfield that took America by storm. Some fads come and go, but 20 years later The Simpsons remains timeless.
Beginning January 14, 2009, Fox and The Simpsons will launch the "Best. 20 Years. Ever.," a global celebration of The Simpsons culminating one year later, January 14, 2010, on the 20th anniversary of the series' debut. The "Best. 20 Years. Ever." will incorporate domestic and global efforts honoring all things Simpsons.
To kick off the celebration, Fox invites fans to "Unleash Your Yellow" and celebrate television's favorite family. The year-long campaign begins with a Poster Contest and will follow with multiple fan-based initiatives through January 2010.
The Simpsons Poster Contest encourages fans to get creative and discover The Simpsons in their everyday life. Whether it's a cob of corn that reminds them of Marge, a billowing cloud that looks like Homer or a picket fence that resembles the spikes of Bart's hair, inspiration can be found anywhere! Fans over 18 will have an opportunity to design and submit posters using their original art and/or supplied assets found online at thesimpsons.com. The deadline for poster submissions is 11:59 PM ET on March 4, 2009.
The Top 10 finalist entries, selected by Fox and The Simpsons producers, will be posted on thesimpsons.com. The winning submission will be revealed on the website April 5, and the creator will receive a trip to Los Angeles to attend The Simpsons 21st season premiere party and tickets to "The Simpsons Ride" at Universal Studios Hollywood. Additionally, the winning artwork may be incorporated into the series' fall 2009 marketing campaign.
For official rules and more information, visit thesimpsons.com.

Complete Eleventh Season Reviewed
By Wesley Mead (wesley@snpp.com) - October 13, 2008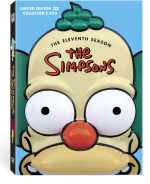 "The Complete Eleventh Season" DVD set, featuring all 22 episodes from the series' eleventh season (1999 – 2000), is now available in the USA, Canada and the UK, and will be released across other R2 and R4 territories in the coming weeks.
After a disconcerting 14-month wait, broaching the regular August and December schedule we had previously grown accustomed to since season five's DVD release back in 2005, Fox Home Entertainment finally deliver the complete season eleven of our favourite family – the third Mike Scully-helmed year – spread across four discs 5:6:6:5 and presented alongside generous helpings of bonus material.
Quite why there was such a delay in the delivery of this season remains a mystery. While it was perhaps reasonable to expect last year's release of "The Simpsons Movie" to supplant any planned season release, the further ten month wait for this set is rather more inexplicable. The commentaries appear to have been recorded around a year ago, so it wasn't them holding up things; whereas the appalling packaging (more on that later) suggests quality control wasn't the problem. Whatever the reason, let's hope releases pick up the pace again soon - we'll never catch up to broadcast airings if they don't go back to releasing at least two season sets a year.
But there's no doubt the wait for this set has been rather more subdued than those in years past. This is in no small part due to the overall decline in quality of the episodes presented here. Season 11 is perhaps the weakest year of The Simpsons to date: overly zany plots and poor characterisation plague the season, more often than not suffocating the occasional decent joke with insane, flitting, fleeting storylines and the greatest exhibition of "jerkass Homer" to date. There is the occasional gem – "Behind the Laughter" is a pitch-perfect satire of VH1's "Behind the Music" series; "Hello Gutter, Hello Fadder" delivers some genuinely heartwarming moments; and "E-I-E-I-D'oh!" delivers a genuinely amusing plot in the legendary concoction of Tomacco. Other episodes have high notes too: Homer's re-imagining of "Mr. Smith Goes To Washington" in "Beyond Blunderdome" and Bart's short-lived term as a faith healer in "Faith Off" are particularly noteworthy. There's undoubtedly some good moments throughout the 22 episodes here.
Elsewhere, unfortunately, problems arise. The wholeheartedly disappointing "Kill The Alligator and Run" takes us down tangential plotline after tangential plotline without delivering even a hint of the biting satire of sharp wit that made earlier seasons so enjoyable. Incredulous third-act twists in "Little Big Mom", "Brother's Little Helper" and the infamous "Saddlesore Galactica" stretch the show's credibility beyond all reason. Maude Flanders is killed off without even a hint of the emotion Bleeding Gums Murphy was afforded in season six. "Guess Who's Coming to Criticize Dinner?" and "Take My Wife, Sleaze" complete Homer's transformation from loveable oaf to irredeemable bastard. There are laughs to be had, certainly, but anyone with any investment in these characters will be too distracted by the absurd plots and characterisation concerns. As I said about season 10, it is perhaps casual fans who will get the most out of the episodes presented here: your average viewer is unlikely to take note of such problems. But for those who have been tuning into every episode and buying all the merchandise, enjoyment will be rather more sporadic.
Special guest stars feature in more episodes than ever before, often to the point of going wasted ("Grift of the Magi" has four special guests – it's simply impossible to do them all justice in 22 minutes). Among those playing themselves are Mel Gibson, Mark McGwire, Lucy Lawless, Penn & Teller, Butch Patrick, John Goodman, Jay North, Henry Winkler, Gary Coleman, Clarence Clemons, Tim Robbins, Elwood Edwards, Britney Spears, Don Cheadle, Shawn Colvin, NRBQ, Betty White, Diedrich Bader, Kid Rock, Robert Evans, Parker Posey and Willie Nelson. Additionally, Marcia Wallace, Frank Welker and Joe Mantegna reprise their regular special guest roles. And that's not even an exhaustive list. Whew.
Contrary to original plans, consumers in all regions once again have a choice of packaging for this season; "standard" or "Krusty plastic head". (Some reports suggest the Krusty head has the regular packaging underneath the plastic, but this has apparently not been universal). The plastic head is not as heavily stylised as previous sets - it's thinner and weaker. But real complaints lie with the internal packaging of the set. On the positive side, it's thinner than previous sets – good when shelf space is a concern – and there's some nice original artwork. On the negative side, it's just about the worst packaging I've ever seen for a DVD set, and I've seen a lot of DVD sets. Whatever Fox were going for here, they have failed. Fold out the digipak-style cardboard booklet that comes inside the DVDs and you may immediately wonder "where the hell are my DVDs?" There's no disc trays, not even any obvious disc holders. Nope, the discs are hidden entirely under the cardboard panels, in the thinnest of slots, making access without either scratching the disc or breaking the cardboard impossible. I could live with discs that are half-visible, like the recent R1 Futurama movie releases. Perhaps slightly more prone to scratching than regular disc holders, but at least you can get to the disc relatively easily. But Fox didn't even afford us that opportunity. The only hint as to where the discs sit are faint semi-circle indentations in the cardboard. It's a genuinely ridiculous concept, and it wouldn't surprise me if it was a deal-breaker for fans wary of continuing their Simpsons DVD collection beyond season 10. There's also a booklet, glossly and well-illustrated as usual, albeit lacking the unifying theme booklets for seasons 6 to 10 had. The digipak art is based on funfair attractions; while the disc art is based on a House Of Mirrors.
The menu system remains the same as it has been since season five – they must be happy with it; I know I am, as right now they are both easily navigable and beautifully designed. The top half of the screen contains a animated screen featuring a variety of Simpson characters revelant to the episodes on that particular disc standing outside funfair attractions. The bottom half of the screen lists the episodes along with the lovely "Play All" option, and an "Extras" button. Each episode has two small buttons next to it: choosing the first, a triangle similar to a Play button, will play the episode; the other, with a "+" mark, will open a sub-menu, also themed, of which there can be several in a row, featuring scene, language, subtitle, commentary and deleted scenes options. There is a chapter stop after the opening of the show for quick skipping, as well as at several other points throughout each episode.
As usual, the principal extra is the commentary on every one of the 22 episodes in the set. A fair range of contributors are present, though things seem slightly less varied this season. Showrunner Mike Scully turns up on every single one; though the once-regular Matt Groening, show creator, is present on just two, sadly. Other regulars throughout the set include crew members Matt Selman, Ron Hauge, George Meyer, Dan Greaney, Mark Kirkland, Steven Dean Moore, Ian Maxtone-Graham, Tim Long, Donick Cary, Pete Michels, Julie Thacker, Nancy Kruse, Neil Affleck, Larry Doyle and Carolyn Omine. A smattering of other crew members pop up for an episode or two, while on-air talent is represented by cast members Dan Castellaneta (three episodes), Yeardley Smith (one), and guest star Diedrich Bader (one). Each episode has between four and eight commentators. The tracks are, as ever, often hilarious and often informative, sharing interesting anecdotes a-plenty along the way (how Dan Castellenata writes with his wife without breaking into argument; how Bachman-Turner Overdrive recorded their parts separately due to tense inter-band relations; how "Days of Wine and D'oh'ses" was originally pitched at the same time as "Duffless" and was thus overlooked until seven years later). Mike Scully remains a fine anchor; naturally he defends the episodes to what is, in my mind, an unrealistic extent; but he jocularly acknowledges fan criticism of "Saddlesore Galactica" and "Kill the Alligator and Run" in particular, and comes across as a general good sport. But genuinely everyone contributes: from the animation staff, who continue to offer unparalleled insight into the ins and outs of putting the show to screen; to the writers and directors, who provide multitudes of interesting stories of how plotlines developed over time. My one qualm remains the relative lack of participation from cast members.
Once again, the bonus material is certainly not limited to the commentary tracks. Kicking off the additional bonus features is the "In Line With Matt Groening" on disc 1, a three-minute reel of quick season eleven clips over which Matt discusses the DVD set at a great pace, in the same vein as the similar featurettes on previous seasons (although this time he sounds somewhat sarcastic about the quality of the season.. or am I just reading too much into his tone..?).
Deleted scenes are supplied again: 18 minutes of clips from 20 episodes. All are entertaining, and are in the later stages of production – the only thing missing from most is some voice cleanup and sound effects. You can view them inserted into their respective episodes via a branching feature, or as a 18-minute reel (in which the scenes are preceded by 10 seconds or so of animation actually used in the episode, to give the scenes context) with optional commentary by Mike Scully on the final disc. The commentary is worth a watch, offering reasons for why each was cut (although as ever, most were chopped due to time restrictions).
On the "Art and Animation" front, there are two in-depth "Animation Showcases" for the episodes "Beyond Blunderdome" and "The Mansion Family" featuring multi-angle animation comparisons from different stages of the animation process. They're fun enough, but as I said last time, a bit more variety at this stage in the DVD run couldn't hurt. There's also a sketch gallery. Sadly, there are no "A Bit From The Animators" segments this time – my favourite of the animation-themed features on past sets.
There's also an interesting, but far too short, 5-minute "A Star on Hollywood Boulevard" featurette; a rather useless 4-minute montage of "The Many Faces of Krusty"; some original sketches; a Special Language Feature enabling us to view "Beyond Blunderdome" in different languages; and the occasional Easter Egg (including a video used for the Simpsons theme park ride - a great inclusion). It's another solid batch, but as I continue to point out, eleven seasons down the line we're still yearning for a substantial documentary or featurette. It's telling that every review, I only have to change the smallest parts of the text of this section. There's only so many Animation Showcases one can maintain interest in.
The audio-video quality on this set is again excellent – it's continuing to improve with each successive season, and whilst we're still not quite up to the impressive digital quality we'll be expecting with season 14 onwards, we're getting very close indeed. The full-frame presentation (NTSC in R1, PAL in R2 and R4) is bright, sharp and fully detailed; it's only marred by the limitation of the source material. There is minimal grain and shimmering, and colours are vivid. The DD5.1 remaster is again excellent, and whilst largely front-focused, directional effects sometimes do make their way to the back, and the overall clarity makes for an improved listening experience. Dialogue and music alike come through clearly, if not quite as loud as you might hope. On the R1 set, French and Spanish DD2.0 soundtracks are also included, as are Spanish and English SDH subtitles. On the R2 UK set, there are no alternative audio options, but Dutch, Finnish, Icelandic, Norwegian, Swedish and English SDH subtitles are available. (Obviously, local European releases will feature other language and subtitle options, depending on the native language). I extensively tested the English subtitles, which appeared accurate and true to the spoken word. The R1 subtitles continue to "drop out" for about 5 seconds, and then quickly catch up – I believe it is to do with the deleted scenes branching option, which also prevents manual switching of subtitles during the episode. This problem is not present on the R2 set. Unfortunately, the commentaries and extras are still not subtitled on R1, a let-down for fans with hearing impairments; but the UK R2 and AUS R4 release do feature subtitles on the bonus features, including commentaries.
So, a weak run of episodes, continually diwndling bonus material, and shockingly bad packaging. There's no two ways about it: this season is not a must-buy in the same way earlier sets were. A handful of great episodes, alongside the continued provision of commentaries on every episode, may prove mitigating factors; but ultimately this one is for the die-hard collectors only.

The Simpsons - The Complete Eleventh Season


EPISODES: C - Some highlights, but far more lowlights
PRESENTATION: C - Great AV quality is cancelled out by unforgivable packaging
EXTRAS: B - A fair batch, as ever, but ingenuity and originality is needed
OVERALL: C+ - Fans will buy it anyway, but this season set is not "must-have"

Future news concerning the DVDs, including the forthcoming Season 12 release, and any other compilation discs, will be added to our DVD News page.