Simpsons Renewed for Seasons 35 and 36
By Don Del Grande - February 5, 2023
Fox Entertainment announced that it has given two-season extensions for The Simpsons, as well as Family Guy and Bob's Burgers. (The Great North had been given a one-year extension earlier.) This renews the show for the 2023-24 and 2024-25 seasons.

Simpsons Wins 2019 Animated Program Emmy
By Don Del Grande - September 14, 2019
The Simpsons won the Emmy for Outstanding Animated Program at the first night of the 2019 Creative Arts Emmy Awards, beating out Bob's Burgers, Bojack Horseman, Big Mouth, and the series finale of Adventure Time. The series submitted the episode "Mad About the Toy".
This is the shows first win in this category since Season 19's "Eternal Moonshine of the Simpson Mind" won in 2008.
Under Emmy rules, only 21 people who worked on the show are actually given Emmys. For this episode, they are:
James L. Brooks, Executive Producer - this is his 19th Emmy
Matt Groening, Executive Producer
Al Jean, Executive Producer
Matt Selman, Executive Producer
John Frink, Executive Producer
J. Stewart Burns, Co-Executive Producer
Bill Odenkirk, Co-Executive Producer
Joel H. Cohen, Co-Executive Producer
Rob LaZebnik, Co-Executive Producer
Jeff Westbrook, Co-Executive Producer
Brian Kelley, Co-Executive Producer
Dan Vebber, Co-Executive Producer
Ryan Koh, Co-Executive Producer
Richard Raynis, Produced by
Tom Klein, Animation Producer
Andrea Romero, Animation Producer
Mike B. Anderson, Supervising Producer
Michael Price, Written by
Rob Oliver, Directed by
Eddie Rosas, Assistant Director
Carlton Batten, Lead Animation Timer

Actress Russi Taylor Dead at 75
By Don Del Grande - July 28, 2019
Russi Taylor, who has been a voice actress for the show since the first season, died on July 26 at age 75. The cause of death was not made public. Taylor has been voicing characters for the show starting with the second episode, "Bart the Genius," which was the first appearance of Martin Prince; she was also the regular voice of Sherri & Terri as well as German exchange student Uter. However, she was probably best known for being the longtime voice of Minnie Mouse, working alongside her husband Wayne Allwine, who voiced Mickey Mouse until his death in 2009.

Season 19 to be released on DVD December 3
By Don Del Grande - July 21, 2019
At the Simpsons panel at the 2019 San Diego Comic Con, executive producer Al Jean announced that Season 19 of the series will be available on DVD on December 3, 2019. This is about two years after the release of Season 18, and, as with that season, it will be available only on DVD, and not Blu-Ray. The cover art was also displayed, showing Homer, which caused some discussion as it was thought that Milhouse would be featured on the next release. The release is expected to have the usual "bonus features," including commentary tracks for every episode.

Simpsons episode streaming moving to Disney streaming service in November
By Don Del Grande - July 21, 2019
Disney's new streaming service, Disney Plus, set to begin on November 12, will be the exclusive home for streaming Simpsons episodes on demand. The Disney service will cost $7/month, or $70/year. Currently, the episodes are available on FXNow, which is available for free (to cable subscribers who get FX) through services such as Roku.

"Stark Raving Dad" pulled from circulation
By Don Del Grande - March 11, 2019
In response to the accusations against Michael Jackson in the documentary Leaving Neverland, Simpsons executive producers James L. Brooks, Matt Groening, and Al Jean have decided to pull the episode "Stark Raving Dad," in which Homer is sent to a mental institution and meets a man who thinks he is Michael Jackson (and Jackson himself does the character's "Michael Jackson speaking voice," although singer Kipp Lennon does the singing), from syndication and streaming services, including the "Every Simpsons Ever" section of FXNOW.

Simpsons Comics to publish its last issue in October, 2018
By Don Del Grande - July 21, 2018
Bongo Comics, publishes of Simpsons comics titles, has announced that issue 245 of Simpsons Comics will be its final issue. The comic, started after the popularity of the "Simpsons Comics and Stories" special issue of "Simpsons Illustrated" magazine, first appeared in November, 1993, as one of four bimonthly titles (along with Itchy & Scratchy, Bartman, and Radioactive Man), then switched to monthly in 1995, back to bimonthly in 1997, then monthly again starting with issue 51 in 2000, and remained monthly until issue 238 in 2017.

Writer Kevin Curran Dead at 59
By Don Del Grande - October 27, 2016
Kevin Curran, a writer for The Simpsons as well as other shows, died on October 25 after a lengthy illness. Curran was 59.
In addition to writing 11 episodes of The Simpsons (one of which has not aired yet) and the "Island of Dr. Hibbert" segment of "Treehouse of Horror XIII", Curran was a staff writer for Late Night with David Letterman, where he wrote the first "Top Ten List" ("Top Ten Words That Almost Rhyme With Peas") and also wrote for Married with Children, where he was also the "voice" of Buck the dog.
Curran won six Emmys for his work; three as a writer for Late Night with David Letterman, and three as a producer for The Simpsons.

Simpsons Score Two Emmy Nominations
By Don Del Grande - July 14, 2016
The Simpsons received two nominations for the 2016 Emmy Awards.
The first is for the episode "Halloween of Horror" in the Outstanding Animated Program category, where it will be competing against Archer, Bob's Burgers, Phineas and Ferb Last Day of Summer, and South Park. The second is also for "Halloween of Horror," in the "Outstanding Sound Mixing For A Comedy Or Drama Series (Half-Hour) And Animation" (i.e. the category is open to all animated programs, and all live-action half-hour series), along with Modern Family, Mozart in the Jungle, Silicon Valley, and Veep. The show's two nominations tie it with Brooklyn Nine-Nine for the most nominations this year by a Fox network comedy series.
None of the show's voice actors received a nomination in the Character Voiceover category; those went to Seth MacFarlane for Family Guy, both Trey Parker and Matt Stone for South Park, and both Keegan-Michael Key and Chris Pine for Crackle's SuperMansion.
The categories in which the show is nominated are part of the Creative Arts Emmys ceremony, which are now held over two days; Saturday and Sunday, September 10 and 11. The two-day event will be edited down to a two-hour TV special, which will most likely air on FXX on September 17.

Harry Shearer Doesn't Leave Show After All
By Don Del Grande - July 7, 2015
After reportedly leaving the show in May without signing a new contract, voice actor Harry Shearer has now signed a deal to continue providing voices to the show until Season 30, which is the same deal signed by the show's other five stars.
Shearer says that the short-lived holdout had nothing to do with money, but with flexibility in his schedule - and, in fact, executive producer Al Jean later said on Twitter that he had asked Shearer to "request material from" Shearer without knowing that Shearer was on what he believed was a five-week break from the show.

Sam Simon Dies at 59
By Don Del Grande - March 9, 2015
Sam Simon, who was one of the co-creators of The Simpsons along with Matt Groening and James L. Brooks, died on March 8 at age 59 after a long battle with cancer. Simon has nine Emmys; seven for The Simpsons, and two for The Tracey Ullman Show, one of which was for writing. Simon was also nominated for writing for It's Gary Shandling's Show and for producing Taxi and Cheers.
Simon actually left the show in 1993, but maintained an Executive Producer credit, and a lucrative video deal enabled him to get involved in philanthropic efforts, headed by his Sam Simon Foundation, whose efforts include training service dogs for veterans with PTSD and "hearing-ear" dogs for deaf and hard-of-hearing people.

Jan Hooks Dies at 57
By Don Del Grande - October 10, 2014
Jan Hooks, who was the original voice of Apu's wife Manjula Nahasapeemapetilon, died on October 9 at age 57. No cause of death was originally given, although "a source" told TMZ that she was "battling a serious illness". Hooks is best known for being on the cast of Saturday Night Live from 1986 until 1991, alongside another well-known regular Simpsons voice actor, Phil Hartman. She was also on the cast of Designing Women for its final two seasons.

Harry Shearer Finally Wins An Emmy For His Simpsons Work
By Don Del Grande - August 16, 2014
For the first time since the category was created in 1992, Harry Shearer has won an Emmy for voiceover performing, for his roles in the episode "Four Regrettings and a Funeral." This is the first year in which "character" voices did not compete against narrators, who have their own category (won this year by Jeremy Irons for National Geographic WILD's Game of Lions). With this win, Harry becomes the last of the show's six "stars" to win an Emmy for the show.
The Simpsons won two other Emmys; color design director Dmitry (credited "Dima") Malanitchev and background designer Charles Ragins won in the Individual Achievement in Animation. Both won for their work "Treehouse of Horror XXIV." This is Ragins's second Emmy for the show; he also won in 2010 for "Postcards from the Wedge." This brings the show's total number of Emmys to 33.
The Simpsons was nominated for one other Emmy, in Sound Mixing For A Half-Hour Comedy Or Drama Series (Half-Hour) And Animation (for "Married to the Blob"), but lost to Nurse Jackie.
The two winners of Emmys for animated program were Bob's Burgers (for the episode "Mazel-Tina") for "normal length" programs, and Disney Mickey Mouse for "short format" (defined as "about 15 minutes") programs.
These awards were announced at the 2014 Creative Arts Emmy Awards on August 16. A heavily edited broadcast will air on FXM (not FXX, because of the Simpsons marathon) on Sunday, August 24; however, Harry Shearer was not present to accept his Emmy, so you won't hear his acceptance speech.

For The First Time Since 1994, No Animated Program Emmy Nomination
By Don Del Grande - July 10, 2014
There was something different about the 2014 Emmy Awards nominations - namely that The Simpsons was not nominated for Outstanding Animated Program. This is the first time since 1994, and the third time in the show's history, that this has happened. It is also the first time when the show's producers had not made a conscious decision not to enter the category; when the Academy of Television Arts and Sciences changed its rules after 1992 to allow animated series to enter as comedy series instead of animated programs if they wished, the show was entered as a comedy series in 1993 and 1994, but after two years of not being nominated, the producers went back to submitting the show as an animated program in 1995.
The show, which had submitted "Brick Like Me" for consideration, lost out to Archer, Bob's Burgers, Futurama, South Park, and Teenage Mutant Ninja Turtles: The Manhattan Project.
However, the show did receive two nominations (which tied it with Brooklyn Nine-Nine for the most nominations received by any of Fox's comedy shows). Harry Shearer, the only one of the show's six "stars" not to have an Emmy for the show, was nominated in the Outstanding Character Voice-over category for his work in the episode "Four Regrettings and a Funeral". This is the first year where actors who voice characters will not be competing against narrators, who now have their own category. Also, the show was nominated for Outstanding Sound Mixing for a Comedy/Drama Series (Half-Hour) And Animation, for "Married to the Blob." In addition, the show could also win an Emmy in the Outstanding Individual Achievement in Animation category, which is given to individual animators; the category does not have nominations, but instead, all entries are judged and given a separate yes-or-no vote on whether or not they should receive an Emmy.
The categories in which the show is nominated are part of the Creative Arts Emmys ceremony, which takes place Saturday, August 16; a heavily-edited (from four hours down to two) version will be broadcast on August 24 on FXM.

Marcia Wallace Dies at 70
By Jouni Paakkinen - October 26, 2013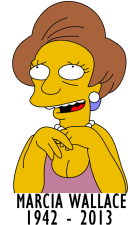 Marcia Wallace, the voice of Bart's 4th grade teacher Edna Krabappel, has died yesterday at the age of 70. According to Los Angeles Times, she died due to complications of pneumonia. Wallace had survived breast cancer, diagnosed in 1985.
"She was beloved by all at The Simpsons and we intend to retire her irreplaceable character," show runner Al Jean told Entertainment Weekly. However, the lines she recorded before her death for Mrs Krabappel will appear in upcoming episodes.
Marcia Wallace won an Emmy for her perfomance in the third season episode "Bart the Lover", where Bart, as a prank, sends fake love letters to her lovesick teacher.

Sam Simon Diagnosed with Cancer
By Jouni Paakkinen - March 12, 2013

Sam Simon revealed Monday in a radio interview that doctors estimate he has only months to live. He was diagnosed with colorectal cancer about five months ago. It has now metastasized and spread to other organs. It was estimated that he may have only three to six months to live.
Simon considers developing The Simpsons as one of his top accomplishments in life. Simon has not worked on the show since season four, but because of his central role in shaping the show with James L. Brooks and Matt Groening, his name is still seen in the opening (and end) credits of every episode, right after the couch gag.
Simon is one of the key persons in the history – and success – of the show. "If you leave out Sam Simon," writer Jon Vitti said in a 2001 interview, "you're telling the managed version. He was the guy we wrote for."
Sam Simon is also very proud of Sam Simon Foundation, "Saving the lives of dogs to enrich the lives of people."

Source: Examiner.com
Photo: CC-BY Matt Waldron / Wikimedia Commons
Discuss at No Homers Club.
Follow @simonsam on Twitter.

Fifteenth Season DVD Reviewed
By Wesley Mead - December 15, 2012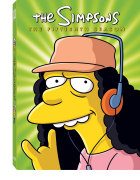 "The Simpsons: The Fifteenth Season", featuring all 22 episodes from the series' fifteenth season (2003-2004), is now available on DVD in both standard packaging and limited-edition packaging across the world. (In the UK, the Limited Edition packaging is an HMV exclusive.) The USA and Canada are also treated to a Blu-Ray release, to sit alongside the R1-only Blu-Rays of S13, S14 and S20. (The Blu-Rays are region-locked, by the way.) This review will focus on the standard-packaging UK DVD release, which splits the 22 episodes of the 2003-04 run 5:6:6:5 across four discs. (The Blu-Ray is spread across just three.)
Another year of anticipation has preceded the release of this set, it having been fourteen months since S14 hit British DVD stores, and a year since release on the other side of the Atlantic. At the risk of repeating myself, this means that once again, we are still no closer to catching up with recently-televised Simpsons episodes. If production of the show wraps up following season 25, as has been mooted on some corners of the internet, here's hoping these releases speed up, before DVDs are consigned to the dustbin of home-media past.
Still, I'm here to look at what's here, not blather on – for the eighth year running, unbelievably – about how we need more frequent releases of the show. Let's get looking at the package.
The fifteenth season of the show is probably one of the strongest of the past decade; despite still being a far cry from the glory days of the mid-90s, there are a number of decent episodes contained here. "I, D'oh-bot" (or "I, (Annoyed Grunt)-Bot", for the tragically pedantic), the episode in which Homer "builds" a robot for Bart that is really just himself in costume, rates as one of the show's strongest late-period entries. It's a genuinely moving episode with a number of strong jokes, and is one of the only shows this season to place a strong emphasis on character. "The Way We Weren't", a flashback episode that reveals Homer and Marge actually met as children at a summer camp, is also a very good one: it's sweet and touching in a way not many shows from this run are. "'Tis the Fifteenth Season", meanwhile, the Christmas episode that sees Homer become the nicest fellow in town, is surprisingly hilarious at times, and is a worthy entry to any festive TV lineup.
Unfortunately, though, those episodes are the exceptions to the rule. Few of the episodes here are outright bad, but the vast majority are extremely forgettable, powering through storyline after storyline and forgetting that The Simpsons is at its best when it's about characters, about heart; not when it's about finding Artie Ziff in the attic ("The Ziff Who Came To Dinner"), Homer being arrested for treason in London ("The Regina Monologues"), Edna hooking up with Comic Book Guy ("My Big Fat Geek Wedding") or Homer becoming superhero Pie Man ("Simple Simpson"). Gimmicks are overused, too; from the extended parody of the Catch Me If You Can opening sequence ("Catch 'em If You Can") to an unnecessary Evita parody ("The President Wore Pearls") and another blasted Simpsonised history trilogy ("Margical History Tour"). And there are sometimes more guest stars than jokes: Michael Moore, Simon Cowell, Tony Blair, JK Rowling, Mary-Kate and Ashley Olsen, Glenn Close (reprising her role as Homer's mother), Sarah Michelle Geller, Ian McKellen, Thomas Pynchon, Brave Combo... the list goes on.
Still, I can't say that I didn't enjoy the episodes contained here. On their own merits, most are perfectly watchable. They're nowhere near as memorable or as sharp as seasons two through eight, but there's nothing so awful here that collectors will want to stop now. (If you made it through seasons 11 and 12, you'll be fine.) If you have mixed feelings on latter-era Simpsons, though, nothing here will change your mind.
So, that's the main feature – what about the DVDs? Once again, a choice of packaging is on offer (for the standard-def DVD set, not the Blu-Rays). You can go for "standard", or "Otto head" (the latter is HMV-only in the UK and JB Hi-Fi-only in Australia). The plastic head mould is similar to that of S11 through S13, I understand; I myself have the standard packaging, so I can't comment for sure. I can comment on my continuing disapproval of the way these sets are designed, though: they look beautiful, the fold-out digipak adorned with great art, but in terms of functionality, it continues to rate among the worst packaging I've seen for a DVD set. The discs are stored entirely within the cardboard panels of the digipak, in relatively thin slots, making access without either scratching the disc or breaking the cardboard difficult. These slots are slightly more accessible than they used to be, but I'd still prefer a plastic case, and I imagine most everyone else would too. (The Blu-ray Disc packaging is plastic, I understand). There's also another neat booklet, with episode and special feature details, in a "Visitor's Guide to Springfield" format.
The menu system remains the same as it has been for ten seasons now: good news, as it's both easily navigable and beautifully designed. The top half of the screen contains a animated screen featuring a variety of Simpson characters sat on Otto's bus. (Guess he's diversified from serving only Springfield Elementary.) The bottom half of the screen lists the episodes along with the eternally useful "Play All" option, and an "Extras" button. Each episode has two small buttons next to it: choosing the first, a triangle similar to a Play button, will play the episode; the other, with a "+" mark, will open a sub-menu, also themed, of which there can be several in a row, featuring scene, language, subtitle, commentary and deleted scenes options. There is a chapter stop after the opening of the show for quick skipping, as well as at several other points throughout each episode.
As usual, the principal bonus is the commentary on every one of the 22 episodes in the set. The usual suspects are present and correct – Al Jean and Tom Gammill are the sole regulars this time, but producers (Selman, Maxtone-Graham, Price, Pross, Long) writers (Warburton, Payne, Joel H Cohen, Omine, Gould, et al) directors (Anderson, Moore, Silverman, et al) and Groening pitch in frequently. Alas, cast members play a far lesser role in proceedings this time; Dan Castellaneta shows up twice, and Yeardley Smith and Nancy Cartwright once each. It's a shame they're not present more often, as I do enjoy their involvement, and last season seemed to really be ramping things up. Regardless, the commentaries remain a good listen; not as essential as they were in the classic years, but still at turns amusing and informative. Michael Moore turns in a decent guest commentary slot on "The President Wore Pearls"; TV critic Alan Sepinwall is good value on two episodes; and Jeff Nathanson, writer of the movie Catch Me If You Can, shows up on.. er.. "Catch 'Em If You Can".
There are a few other bonuses around, too, though they seem to be decreasing in number and substance with every passing season. Kicking off the additional special features is "All Aboard With Matt" on disc 1, a two-minute reel of quick season fifteen clips over which Matt discusses the DVD set at a great pace, in the same vein as the similar featurettes on previous seasons. Deleted scenes are supplied again: just over ten minutes of clips from around half the episodes presented here. All are in the later stages of production – the only thing missing from most is some voice cleanup and sound effects. You can view them inserted into their respective episodes via a branching feature, or as a reel (in which the scenes are preceded by 10 seconds or so of animation actually used in the episode, to give the scenes context) with optional commentary by Al Jean on the final disc. The commentary is worth a watch, offering reasons for why each was cut (although as ever, most were chopped due to time restrictions). The scenes themselves are varied in quality; some would've rated as episode highlights, and some are extremely unfunny and/or forgettable.
A mere two featurettes this time around, disappointingly. My desire for a substantial documentary or featurette continues unrequited. The 17-minute "The Unusual Ones" is very interesting, admittedly, offering commentary on a dozen or so scenes that look a little different from the norm or were inspired by other artists ("El Viaje Misterioso" shows up a lot), but the two-minute "Living in the Moment" barely qualifies as a featurette, merely showcasing fluffy press photography in "visual scrapbook" form. Two sketch galleries are fine, if insubstantial, as are two commercials (Ritz crackers, Mastercard); the ever-present Special Language Feature, allowing you to listen to "My Big Fat Geek Wedding" in five foreign languages, is close to useless at this stage. "The Wandering Juvie" has another unmemorable Animation Showcase, comparing the final episode to storyboard and animatic, useful largely to animation students. The Blu-Ray has upscaled High-Def versions of "The Otto Show", "Das Bus" and "It's A Mad Mad Mad Mad Marge" (all Otto-themed) as a bonus too; obviously, these don't show up on the DVD.
The audio-video quality on this set (a reminder: I'm reviewing the SD-DVD) is once again superb, virtually flawless. The full-frame presentation (NTSC in R1, PAL in R2 and R4) is bright, sharp and fully detailed; it's only marred by the limitation of the source material. The only issues are occasional minimal alias artifacting and shimmering, but it doesn't detract from the experience. Colours are vivid and accurately reproduced. The DD5.1 remaster is again excellent, and whilst largely front-focused, directional effects sometimes do make their way to the back, and the overall clarity makes for an improved listening experience. Dialogue and music alike come through clearly. On the R1 set, French and Spanish DD2.0 soundtracks are also included, as are Spanish and English SDH subtitles. On the R2 UK set, there are no alternative audio options, but Dutch and English SDH subtitles are available. (Obviously, local European and Australasian releases will feature other language and subtitle options, depending on the native language). I extensively tested the R2 English subtitles, which appeared accurate and true to the spoken word. The UK R2 and AUS R4 release feature subtitles on the bonus features, including commentaries; I don't believe Fox R1 have yet make the switch to subtitling bonuses, however.
All in all, you probably know if you're going to get this set. If you've bought the first fourteen, why stop now? If you stopped back at season 10, why start again here? Mediocre episodes and unexciting features do not a must-buy make, unfortunately, but for those who are still investing, there's enough decent stuff here (the commentaries, the sharp transfers, "I, D'oh-bot") to make this feel an OK addition to the collection.


The Simpsons - The Fifteenth Season

EPISODES: C+ - A couple of good 'uns, but mostly forgettable
PRESENTATION: B- - Audio-video great, packaging not so much
EXTRAS: C+ - I want more variety, dammit! Commentaries still worthy, though
OVERALL: C+ - Still a worthy buy for collectors, but not even close to the best Simpsons sets


Future news concerning the DVDs, including the forthcoming Season 16 release, and any other compilation discs, will be added to our DVD News page.

Newsbites



Oct 26 · "The Simpsons and Their Mathematical Secret," a book by Simon Singh, will be released this week. Read more

Mar 28 · Simpsons' writer Don Payne has died yesterday at the age of 48. He had bone cancer. Read more

Mar 9 · Lego is in talks with 20th Century Fox about making a Simpsons toy set. Read more

Jan 9 · "Tales of Moronica" is a Kindle book by former show runner Mike Reiss. It's a fantasy novella, for smart kids and dopey adults. Read more

Dec 15 · Turkish TV channel was fined for airing episode of The Simpsons that shows God taking orders from the devil. Read more

May 18 · Rick Miller's "MacHomer" show is also available on DVD. MacHomer can be seen live at the Stratford Shakespeare Festival in May. Read more

Oct 25 · Facebook has deleted Bill Oakley's account, thinking he was impersonating himself. According to Oakley on Twitter, Facebook refuses to reinstate the account.

Oct 11 · Hank Azaria stands up to cancer, see YouTube video.

Sep 30 · The Hammer Museum's annual gala in Los Angeles honored Matt Groening this year. Read more

Sep 16 ·Finnish officials have banned the sale Duff Beer, saying that its association with The Simpsons makes it appealing to under-aged consumers. Read more

Sep 14 · Fox has revamped thesimpsons.com, the official Simpsons site.

Aug 29 · The Creative Arts Emmy Awards will be annouced on Sep 10. ReelzChannel airs a heavily edited version on Sep 17 at 8 PM Eastern/Pacific.

Aug 23 · See Yeardley Smith on stage thru Sep 4. Special fan offer $45 (regular $79). Read more

Aug 23 · Lady Gaga is among the guest voices of the upcoming season. Read more

Aug 23 · Dan Castellaneta will make a live-action appearance on NBC's "Parks and Recreation" next season. Read more

Jul 6 · The Simpsons Comic-Con Panel takes place on July 23 at 1 pm at San Diego Convention Center, Ballroom 20. Facebook event

Jun 24 · The 23rd season premiere of The Simpsons will be on September 25, 2011, Fox announced.

Jun 2 · Win a Simpsons script signed by Joey Kramer of Aerosmith. Enter here, ends June 17.

Jun 2 · EA is planning to release a Simpsons game on Facebook later this year. Read more

May 31 · Should Ned and Edna be a couple? Vote now, then tune in to the season premiere this Fall to watch the results.

Dec 3 · Fox News host Bill O'Reilly described the makers of The Simpsons as "pinheads", after a gag implying Fox News was "#1 with racists". Read more.

Nov 22 · Mike Scully has received the WGA Animation Lifetime Achievement Award. Read more

Nov 12 · The Simpsons has been picked up for season 23. Get ready for the 500th episode celebration. Or in Fox math, possibly the 501st or 502nd episode celebration.

Oct 15 · Fox will air "The Simpsons Movie" on Thanksgiving night.

Oct 5 · The latest addition to The Simpsons Library of Wisdom book series, "Chief Wiggum's Book of Crime and Punishment," is now available.

Aug 25 · The Simpsons Archive has now 1,000 followers on Twitter! (And nearly 600 on Facebook.)

Aug 24 · Massive "Simpsons World - The Ultimate Episode Guide" covering seasons 1-20 on 1,200 color pages will be published by HarperCollins in October.

Jul 10 · Simpsons writer and producer Larry Doyle has written a new book, called "Go Mutants!".

Older Newsbites >>