---

Simpsons Monopolized
By Jouni Paakkinen (jouni@snpp.com) - December 12, 2000
Encouraged by the enormous success of the Simpsons Clue game, USAopoly is currently developing a new version of world's most popular board game, Monopoly, featuring characters and locations from "The Simpsons." Players get to move around the Springfield-themed board with pewter Simpsons character tokens, such as Homer and Bart.
The Simpsons Monopoly, unveiled this February at Toy Fair in Gotham, is expected to be on store shelves by early spring 2001. Additionally, a Homer-centric trivia game by Cardinal Industries will be launched at the Toy Fair, along with a new wave of interactive figures from Playmates.
For a list of existing Simpsons games, see our Simpsons Games document.
Source: Yahoo! (courtesy Jake Lennington)



Meditations on Springfield
By Jouni Paakkinen (jouni@snpp.com) - November 3, 2000
"Cartoons don't have any deep meaning. They're just stupid drawings that give you a cheap laugh," Homer Simpson once said. A group of philosophers and academics will prove Homer wrong in the upcoming book by Open Court.
The Simpsons and Philosophy: The D'oh! of Homer begins with philosophical examinations of a number of our favorite characters. Does Homer actually display Aristotle's virtues of character? In what way does Bart exemplify American pragmatism? Why does Maggie matter?
The book then goes on to examine the ethics at work in the show. Why is Mr. Burns' quest for happiness continually frustrated? Is Ned Flanders consistent and justified in his practice of neighborly love? What does the show tell us about the politics of the nuclear family?
The Simpsons and Philosophy also tackles such issues as irony and the meaning of life, parody as homage, traditional sexual roles, existential rebellion, American anti-intellectualism and even Marxism in Springfield.
Among the philosophers discussed are Aristotle, Marx, Camus, Sartre, Heidegger, and Kant. Also included are an episode guide and a chronology of philosophers. See the book's contents for more details.
"The Simpsons and Philosophy is meant to be an entertaining and even edifying look at The Simpsons, a series of meditations on the silly, absurd, hyper-ironic, and even philosophical world that is Springfield, the town without a state," explains editor William Irwin.
The book will be released in the spring 2001. The Springfield Times will keep you posted!
Update (01/03) Amazon.com is now taking advance orders for the book.


Ten Years Gone
By Jouni Paakkinen (jouni@snpp.com) - October 22, 2000
A new Simpsons exhibit reflecting the show's past seasons opens Saturday, October 28 at the Hollywood Entertainment Museum. Entitled "The Simpsons: Ten Years Gone," the attraction will feature a variety of items from the series, including a collection of color animation cels.
Serving as the exhibit's centerpiece will be a 1'x2½' limited edition artwork dubbed "Where's Bart," which attempts to portray all the characters which have appeared on "The Simpsons." Other highlights include an original color drawing of the Simpson family, and a display of Simpsons promotional and merchandising items never before seen in the U.S.
"The Simpsons is a singular show that has carved a historic niche in television lore," says Phyllis Caskey, president and CEO of the Museum. "Our mission is to house and celebrate the best of Hollywood, and The Simpsons comfortably falls into that elite category."
The opening will be attended by more than 400 Global Fanfest winners from around the world as part of Fox's year-long celebration of the series. The exhibit will be open Thursdays to Tuesdays (11 a.m. - 6 p.m.) at the Hollywood Entertainment Museum, 7021 Hollywood Blvd, until December 3. For more information, phone (323) 465-7900.


Bart's Extreme Extravaganza!
By Jouni Paakkinen (jouni@snpp.com) - October 5, 2000
The Simpsons Global Fanfest Celebration year will culminate on October 27-29, when Fox brings together show's viewers and its creators in Hollywood, California. However, to many fans' disappointment, only contest or sweepstakes winners have been invited to attend this much anticipated Simpsons event.
If you're one of the fans without an invitation, you can console yourself on the Fanfest weekend by participating in a free-for-all event called "Bart's Extreme Extravaganza." The festivities begin at 1 p.m. on Saturday, October 28th at the Queen Mary in Long Beach, California.
Paying a tribute to daredevil Bart, world-renowned athletes will entertain the audience with extreme sport stunts, including a skateboarding competition. Additionally, Bart's most outrageous moments from the show will be displayed on a giant screen.
Fox urges people to arrive early as the space is limited. For more details on the event and the Fanfest weekend, visit thesimpsons.com.
Thanks to John Fiedler.


Anniversary Trading Cards Hit Stores
By Jouni Paakkinen (jouni@snpp.com) - September 21, 2000
Inkworks has released a new series of collectible trading cards celebrating a decade with The Simpsons. The 81-card set includes decoder cards in every pack, episode highlights, character cards, Simpsons Exposed cards, a Homer tribute and more.
Additionally, as a treat for collectors, special "Hobby Store Only" boxes contain:

Cut Ups; Nine die-cut character cards.
Nuclear Neon; Six neon plastic cards that seem to glow.
Diorama-Rama; Two paper and two plastic overlay cards that combine to create a mix-and-match puzzle.
Autographs; Card signers to be announced later.
A special bonus card has been added for customers who buy full 12 box cases.
The suggested retail price is $2.99 for a seven card pack. To locate a comic book store near you call 1-888-266-4226 (toll free).
The Inkworks series is the fourth trading card set released in the United States. The first series was released by Topps (88 cards) in 1990, and the second and the third series (both 80 cards) by Skybox in 1994.


Nancy's Life as a Ten Year Old Boy
By Jouni Paakkinen (jouni@snpp.com) - September 10, 2000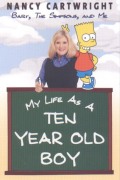 The first Simpsons book by Nancy Cartwright, the voice of Bart Simpson, Ralph Wiggum, Nelson Muntz and many other Simpsons characters, will hit stores on October 31.
My Life as a Ten Year Old Boy is a behind-the-scenes story from a point of view of a voice actor. On the 224 pages of the hardcover book, Nancy talks about the very first recording sessions and how The Simpsons became a huge hit in the early 90s. She also describes the production of a Simpsons episode, revealing hilarious anecdotes about other cast members and guest stars.
Nancy Cartwright will be appearing in person to sign copies of her book on November 2 in Dayton, Ohio, and on November 6 at 7:30 PM at the Barnes & Noble store in New York City.
Amazon.com, Barnes & Noble and other major bookstores are now accepting pre-orders for the book.
Thanks to Toon Zone.