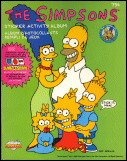 The Simpsons: Sticker Activity Album
Album d'Autocollants Rempli de Jeux
By Matt Groening

"Bonus Inside! Animation Viewer that lets you see The Simpsons move!"
Slide-O-Scope
"Gratuit à L'intérieur! Un Visionneur qui te permet de voir Les Simpsons en Action!"
Bart: Stick It, Man!
Softcover, 1990, Diamond Publishing, Inc.
UPC: 071896 476002 04
List Price: 79 cents
24 pp., 27.6 cm by 21.7 cm


For the U.S. and Canadian markets, hence the French.

Our detailed description of the album and all the corresponding stickers can be found on our page The Simpsons Diamond Stickers and Sticker Activity Albums.