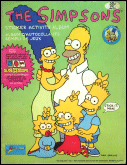 The Simpsons: Sticker Activity Album
By Matt Groening

Softcover, 1991, Euroflash Ltd.
Printed in Italy
UPC: 071896 476002
List Price: UK 50p Eire 75p
24 pp., 27.6 cm by 21.7 cm
One year later we find the same album with the same UPC, same price, but a different publisher. Instead of stickers covering the U.S. edition this one was specifically printed for the UK and Eire markets, with the UK and Eire prices printed on the cover at the top right, and the Euroflash logo displacing the Diamond logo on the lower left.