Sorry about the recent delays, it's summer holidays for us archivists too. :)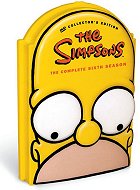 The cover art of The Complete Sixth Season was recently announced. Surprisingly, as you can see, it's nothing like the previous five season set covers. Fox has decided to release next five seasons under this new "heads" theme. Each season will feature one family member's head as the box.
Below is a rundown of known special features approved by the BBFC. Special thanks to members of No Homers Club forum for compiling the list.
TV Special - Springfield's Most Wanted
Featurette - Simpson's Plane
Introduction with James L. Brooks for Who Shot Mr Burns (Part 1)
Deleted Scenes Introduction
Deleted Scenes Reel
Two Deleted Scenes from Round Springfield
Three Deleted Scenes from Bart's Comet
Two Deleted Scenes From Two Dozen And One Greyhounds
Two Deleted Scenes From Lisa's Wedding
Two Deleted Scenes From Bart VS. Australia
Three Deleted Scenes From Grampa VS. Sexual Inadequacy
Four Deleted Scenes From Itchy & Scratchy Land
Three Deleted Scenes From Homer VS. Patty & Selma
Three Deleted Scenes From Homer Badman
Six Deleted Scenes From Fear Of Flying
One Deleted Scene From Who Shot Mr Burns (Part 1)
Two Deleted Scenes From And Maggie Makes Three
Five Deleted Scenes From Homer The Great
Two Deleted Scenes From Homie The Clown
One Deleted Scene For Sideshow Bob Roberts
Four Deleted Scenes From Treehouse of Horror V
One Deleted Scene From The PTA Disbands
Three Deleted Scenes From A Star Is Burns
Four Deleted Scenes From Bart Of Darkness
Two Deleted Scenes From The Springfield Connection
Multi-Angle Animation Showcase for Treehouse of Horror V
Multi-Angle Animation Showcase for Who Shot Mr Burns (Part 1)
Multi-Angle Animation Showcase For Lisa's Wedding
"Springfield's Most Wanted" is a special episode of "America's Most Wanted" TV show, dealing with the shooting of Mr Burns. In addition to these special features, the set will naturally contain commentary tracks for all 25 episodes.

According to Amazon UK and other retailers, The Complete Sixth Season will be released in the UK on September 5, 2005. No official confirmation on the British date has yet been issued by Fox UK, and the date is still subject to change.

The Complete Sixth Season now has a North American release date. The four-disc set will hit the stores on August 16, 2005. No information on release dates in other regions is yet available.
In the meantime, you can feed your DVD hunger with Bart Wars, a single-disc release that is now also available in R1.
For details on the previous sets, select a season: 1 | 2 | 3 | 4 | 5