---

Kiss My Asphalt!
By Jouni Paakkinen (jouni@snpp.com) - January 18, 2000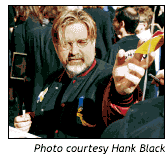 As part of the series' 10th anniversary celebration, The Simpsons received a star Friday on the Hollywood Walk of Fame. The ceremony was the 2,151st held by the Hollywood Chamber of Commerce; a lasting tribute to the personalities that have made Hollywood one of the world's most famous communities.
Among the crowd of photographers and onlookers, several of the show's key figures were in attendance, including series creator Matt Groening, executive producers Mike Scully and George Meyer, and voice cast members Nancy Cartwright and Yeardley Smith.
"What The Simpsons is about is really clever storytelling," Groening summarized. "That's why the show has lasted as long as it has."
When asked about the future of the show, executive producer Mike Scully suggested it would last as long as viewers welcomed it. "We are very conscious of running out of stories to tell. But that said, you know, five years ago, I never would have thought we would be here for Season 11, and we're already breaking stories for Season 12. As long as we can keep the quality up and keep it funny, we'll keep cranking out cartoons."
For webcast clips of the ceremony, visit www.thesimpsons.com.



New Site Ready for Prime Time
By Brian Petersen (brian@snpp.com) - January 12, 2000
Fox is scheduled to launch it's all-new Simpsons web site (thesimpsons.com) on January 14, if all goes according to plan. The site will be opened in association with the series' 10th anniversary as a full- length, regular comedy series on the network.
Along with an episode guide, polls, message boards, on-line shopping, and cast, creator and character bios, The Simpsons' new official site will serve as headquarters for "The Simpsons Global Fanfest;" a year-long promotional extravaganza including scores of merchandise releases, television specials, and other events -- a calendar for which will be provided on the site.
Among the merchandise scheduled for release is:
· The Simpsons Go Hollywood (3-Video Box -- Fox Home; January)
· Talking Simpsons Figures and Dioramas (Playmates; January)
· The Simpsons Pez (February)
· The Simpsons Political Party (3-Video Box -- Fox Home; May)
· The Simpsons Bowling Tournament (Fox Interactive; August)
· The Simpsons Trick or Treehouse (3-Video Box -- Fox Home; Sept.)
One especially interesting feature of the new site will be "The Bart Bowl," in which fans may register to answer trivia questions (refreshed on weekdays) for a chance to win a trip to The Simpsons Global Fanfest's Weekend Celebration. The event, to be held October 27-29, will be a gathering of both contest winners and the show's creators in Hollywood.
Simultaneously with the site's launch, The Simpsons will finally receive its long-awaited star on the Hollywood Walk of Fame, the ceremonies for which will be shown via web cast on the site, beginning at 5 PM EST, and later available as an archived series of clips.
And last but not least, thesimpsons.com will ultimately offer free internet access to fans of the series. Although specific details were unavailable at presstime, part of the service is slated to include custom e-mail addresses, in the format you@thesimpsons.com, to be made available with the contracted free ISP service.
For the official Global Fanfest press release, visit the Collecting Simpsons! web site.
More information on continuing developments will be posted here as it becomes available. Stay tuned!



Collecting Simpsons!
Courtesy KML Enterprises Publishers - November 15, 1999

Wonder what makes the "Really Rude" Bart Simpson doll so rude? Or why tongues were flapping over a pair of Homer Simpson slippers? These questions and more are answered in a forthcoming book, Collecting Simpsons! An Unofficial Guide to Merchandise from "The Simpsons". This new book offers the first definitive account of both the Simpsons merchandise phenomenon and the exploding hobby of collecting Simpsons.
The author of the book is William D. LaRue, creator of the Collecting Simpsons! web site, as well as owner of more than 3,000 items relating to The Simpsons.
The 152-page book isn't just a printed version of the immense content on the web site. The 8 by 11 inch pages of this soft-cover guide are packed with nearly 400 photos, an updated price guide, lots of reviews of merchandise, and exclusive reports on bootlegs and promotional merchandise. There's even an autopsy of the Pull-String Talking Bart doll.



ISBN 0-9675421-0-3
MSRP: $24.95
© 1999 KML Enterprises Publishers

Of course, serious collectors will want this jam-packed reference work that identifies, gives descriptions and lists typical prices for more than 1,000 Simpsons items.
Collecting Simpsons! An Unofficial Guide to Merchandise from "The Simpsons" will be released on December 1, 1999 and it will be available at major U.S. bookstores and online retailers. For the latest news on the book, visit the Collecting Simpsons! web site.
Update (11/24) Chat with the author at 9 PM ET on Tuesday, November 30 at simpsons.about.com.



The Simpsons Go Hollywood
By Brian Petersen (brian@snpp.com) - November 3, 1999

A new trio of Simpsons home videos has been commissioned by Fox for release in the new millennium. Entitled "The Simpsons Go Hollywood," the three- volume set is scheduled to hit stores January 11, 2000, and will offer six episodes spanning the series' 3rd, 4th, 5th, and 6th seasons.
Volume 1 will feature "Marge vs. the Monorail" (#9F10, OAD: 1/14/93) along with "A Streetcar Named Marge" (#8F18, OAD: 10/1/92). On volume 2, "Who Shot Mr. Burns? (Part One)" (#2F16 OAD: 5/21/95) and its conclusion, "Who Shot Mr. Burns? (Part Two)" (#2F20, OAD: 9/17/95). Finally, on the third installment, "Bart Gets Famous" (#1F11, OAD: 2/3/94) and "Krusty Gets Kancelled" (#9F19, OAD: 5/13/93).
"The Simpsons Go Hollywood" has a retail price of $24.99 for the triple pack. Alternatively, volume 1 (but not 2 or 3) can be purchased on its own for $9.99. Advance orders are now being taken by online retailers, including Amazon.com and Reel.com.


MSRP: $24.99
©™ 1999 TCFFC


Simpsons Down Under
By Jouni Paakkinen (jouni@snpp.com) - October 18, 1999 - Thanks to Adam Wolf
On November 7, a new amusement park will be launched in Sydney, Australia. Christened the Fox Studios Backlot, its most interesting attraction--from the point of view of a Simpsons fan--will be a feature called "The Simpsons Down Under."
According to Fox Australia's web site, members of the audience get to be animated into a re-edited and re-animated special based on "Bart vs. Australia". This is accomplished with a technique called motion capture.
The visitors will also be able to visit the Simpsons' home and have a walkabout in two-dimensional downtown Springfield, passing by Moe's Bar, Androidís Dungeon and many other familiar locations, while the voices behind characters crack jokes along the way.
A wide range of original Simpsons merchandise, including composite photos, will be made available for the customers.
For more information, visit Fox Studios Australia web site.


D'OH2K
By Jouni Paakkinen (jouni@snpp.com) - September 5, 1999
Thanks to Mark Tarses of Sunway Co.
Compared to The Simpsons' record popularity throughout the early '90s, the year 2000 may wind up being the busiest in the show's history if all goes according to Fox's grand plan.
In celebration of the series' 10th anniversary, Fox will kick off the new millennium with a "Year-Long Simpsons Celebration," headed up by the unveiling of a new Simpsons web site at www.thesimpsons.com. Set to debut in January, the site will feature a voting area in which fans may choose their all-time favorite episodes of the series. The winning selections will subsequently be issued as special commemorative edition videos.
Also in January, The Simpsons will finally receive its long-awaited star on the Hollywood Walk of Fame, honoring the show's status as longest- running prime-time series on television.
Beginning in March of 2000, Fox will christen another on-line feature in which fans may participate in a grandiose helping of Simpsons trivia. Entitled "The Bart Bowl," finalists will compete with each other for an as-yet-determined grand prize at the first-ever "Simpsons Global Fanfest" convention, to be held in Las Vegas during October of 2000. The three- day event will be a celebration of "all things Simpson," complete with appearances from former guest stars of the series.
In May of 2000, a 10th anniversary Simpsons special will be broadcast worldwide, featuring celebrity interviews, behind-the-scenes footage and other insider stories.
And finally, Fox will wind up the year-long event with a special Simpsons Halloween Concert, featuring some of the famous bands that have appeared in past episodes of the series.
While many details have yet to be announced, the year 2000 is without a doubt forming into an intriguing one for fans of The Simpsons.
Update (10/17) The new official Simpsons site now opened.