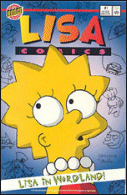 Lisa Comics #1 (Apr 1995)

One poetry-slinging mailman, two palindrome-pummeling twins, sixty-five crossword-crunching questions, and a mischievous house cat are merely four of the uncountable and indefatigably extraordinary elements in Lisa Simpson's curiouser and curiouser comic debut!

Lisa's Adventures In Wordland
| | |
| --- | --- |
| MMMMMMMMPages: | 30 |
| Writing: | Mary Trainor |
| Layouts: | Mili Smythe |
| Pencils: | Stephanie Gladden, Bill Morrison, Chris Clements |
| Lettering: | Mike Sakamoto, Doug Whaley |
| Colors: | Nathan Kane |
| The White Rabbit: | Matt Groening |
| Reprinted in: | Simpsons Comics Royale |
| | |
| Cover Illustration: | Mili Smythe |
| Cover Text: | Lisa in Wordland! |
| Departments: | Bongo Beat, Pony Express |
| Extras: | Footnotes & Annotation, Bongo Profile: Mili Smythe |
| | |
| ------------------------------ | Bongo Comics Group ---------------------- |
| | |
| Publisher: | Matt Groening |
| Managing Editor: | Jason Grode |
| Art Director / Editor: | Bill Morrison |

The Footnotes & Annotation page fills in details on many of the esoteric references made within this comic and provides the solution for the crossword puzzle (or if you prefer, cross words puzzle).

Bongo Beat: The Secret Life of Lisa Simpson by Matt Groening reveals that Lisa is Matt's favorite character and supplies great background information on Lisa. This Bongo Beat article was subsequently reprinted in Simpsons Comics Royale.

This was a wonderful issue parodying Alice in Wonderland, befitting Lisa Simpson. We long for the day when Lisa Comics #2 is published.