Simpsons' Gospel:
Humor Is in Indirect Proportion to One's True Belief
By Mark I. Pinsky
From "The Gospel According to The Simpsons" by Westminster John Knox Press.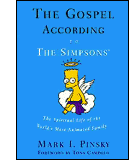 ---
The following is an excerpt from the chapter "The Creators" in Mark Pinsky's new book "The Gospel According to The Simpsons." This section focuses on producer-writers Mike Scully, George Meyer, Jeff Martin and Steve Tompkins; others discussed in the chapter include Ian Maxtone-Graham, Mike Reiss, current show-runner Al Jean, and, of course, Matt Groening.
---
Without live, aging actors and their egos to deal with, The Simpsons has evolved into a writers' medium. "As writer," said Mike Scully, an executive producer who joined the show in 1993, "you really get spoiled on The Simpsons. I tell all our younger guys to enjoy this while it last, because you'll never have it this good again, from a creative standpoint." [Matt] Groening admits that if he hadn't help create the series he probably wouldn't have been hired to write for it. "It's next to impossible to break into the inner circle unless you went to Harvard with one of those eggheads," he said, later referring to them as "Harvard-grad-brainiac-bastard-eggheads."
Typical of the writers who have shaped the series from the beginning is George Meyer, who started writing for the show in 1989 and wrote the episode "Homer the Heretic." Raised in Arizona, the oldest of eight children in a Catholic household, he was an A-student in school, on the speech team, editor of the school paper and was an Eagle Scout. At Harvard, he was elected to head the Lampoon, the fabled humor magazine. After graduation, he was accepted to medical school but gravitated to comedy writing, working for David Letterman and Saturday Night Live. Scully called Meyer "the best comedy writer in Hollywood." The myriad of writers, producers and consultants listed at the end of each Simpsons episode makes it nearly impossible for anyone outside the show to know (or recall) who was responsible for what joke or what plot twist. Much of the credit, most agree, goes to Meyer.
"I felt I was a happy kid," Meyer said in a 2000 New Yorker profile, which was written by David Owen, his Harvard roommate and longtime friend. But, as a Catholic, "I did feel that I was made to shoulder a lot of burdens that shouldn't have been mine – such as the frustrations of older women wearing nun costumes. People talk about how horrible it is to be brought up Catholic, and it's all true. The main thing was that there was no sense of proportion. I would chew a piece of gum at school, and the nun would say, 'Jesus is very angry with you about that,' and on the wall behind her would be a dying, bleeding guy on a cross. That's a horrifying image to throw at a little kid. You really could almost think that your talking in line, say, was on a par with killing Jesus. You weren't sure, and there was never a moderating voice."
Another import from the Letterman show – and former Lampoon president – was Jeff Martin, who wrote for the series for three of the early seasons. Martin also came equipped with considerable knowledge of evangelical Protestantism. He is the son of William Martin, the author of A Prophet With Honor: The Billy Graham Story and With God on Our Side: The Rise of the Religious Right in America, and professor of the sociology of religion at Rice University. "We were active in church when the boys were growing up," said William Martin, a graduate of Harvard Divinity School. The family attended a Church of Christ in Massachusetts and, later, a moderate Southern Baptist Church in Houston, which he described as being "ecumenical, with evangelical roots." Family ties were also strong, William Martin said. "Nearly all of our relatives are actively religious, and Jeff saw a very positive representation of that tradition." His son "grew up recognizing that there were a lot of healthy and positive aspects to it, seeing the good sides of sincere, positive, true belief."
Martin admitted that he and his wife were skeptical about Jeff's move from the Letterman show to The Simpsons: "When he told us he was going to California to write an animated show about a loser working class family, we thought, 'this is a bad career move.'" But at Rice, being the father of a writer for The Simpsons has turned out to carry considerable cachet, he said. "I get lots of mileage out of it." He never missed an episode and, early on, found himself providing informal script consultation to Jeff. "He would call about Scripture or reference or phrase or a song – some technical point."
For his part, Jeff Martin said, "I knew I could always call my parents" for background information on religion, in addition to calling on his own memories. "My extended family contains many, many people who have an abiding faith that sustains them." Not surprisingly, he liked writing for the Flanders family. "Their religion obviously gives them a great deal of happiness and guidance, and the writing staff has respect for that. Ned is a truly nice man." But Jeff said he had a particular affinity for the two boys, Rod and Todd: "I'd have them singing songs I learned in Vacation Bible School when I was kid."
As an industry, comedy writing is dominated by Catholics, Jews and atheists, which made Martin a valuable resource in creating episodes of The Simpsons. In the months-long process – which is at once cooperative and competitive – script ideas are proposed, outlined, written, re-written and polished, often by more than a dozen writers and producers on a single episode. "I was in a minority as a Protestant, but I wouldn't say anyone deferred to me. It wasn't a case of me being an expert, although I suppose I did have more hands-on experience with a Protestant service." Martin moved on from The Simpsons to become co-creator of another animated series about a family, Baby Blues, which airs on the WB Network.
Steve Tompkins, a veteran of three seasons with the series during the mid-1990s, was another writer who brought a Protestant perspective to The Simpsons. His insight is valuable because he is also a distinctive voice for religious values in Hollywood's high-powered world of animated comedies. Most of the writers on the show "were atheist Jews or atheist Christians, and only two of us were churchgoing Christians when I was there." Yet, when Tompkins and I first spoke, for a short article in Christianity Today magazine, he admitted to being wary of being identified as a Christian in print, in part because the label can be the kiss of death for a comedy writer. "The two are seen as antithetical," he said, sounding perplexed by the notion that a self-described class clown like himself should have to choose between the Kingdom of Heaven and a successful writing career. "I do believe that Jesus is the Son of God, that He was crucified and that He rose again." Tompkins was raised an Episcopalian in an upscale Massachusetts town, attending the same church as the novelist John Updike. As a child, he recalled watching Davey and Goliath, an early animated show produced by the Lutheran Church that used biblical themes, before going to church on Sundays.
Tompkins drifted from faith in his 20s, like many young people. While writing for The Simpsons, he had what he called a "reconversion experience," one he emphasized was unrelated to his comedy writing. Because he had not fallen out of faith, Tompkins hesitated to call it a born-again experience: "A little slice of me made itself known again. When that happened it informed my life, but didn't transform my life."
In the fall of 2000, Tompkins showed clips from Simpsons episodes when he spoke at Fuller Theological Seminary in Pasadena, Ca., on a program entitled "Does God Have a Sense of Humor?" as part of the school's "Reel Spirituality" series. Writing for Homer, Marge, Bart and Lisa was a challenge. "There were some rabid atheists at The Simpsons," he said, yet it was not as much of a challenge as believers might think. "If you look at The Simpsons, no matter how twisted the story, no matter how profane the jokes, goodness wins, goodness prevails. No matter how much those writers pride themselves as being atheists, probably deep down, they're not. They have love for humanity, and they love those characters."
Tompkins, too, is a graduate of Harvard University and the Lampoon, and so was well-equipped for the vigorous cut-and-thrust of The Simpsons' writing regime. "You pride yourself on being able to pitch jokes on any subject, no matter how blasphemous or sacrilegious," said Tompkins, who has also written for comedies like In Living Color and Everybody Loves Raymond. "Whatever your religious beliefs might be, the process doesn't injure your personal spirit at all." In fact, being able to participate fully in this raucous "room" can inoculate writers from concerns that they are pushing a particular agenda.
"At The Simpsons, you are reined in," he said. "You can't stick your neck out and do anything that's overtly religious on its face. You must undercut it. There's a gag reflex in comedy writers to undercut any honest religious sentiment. 'It is easier to pass a camel through the eye of a needle' that it is to make a comedy writer quote Scripture with a straight face." The key, he said, is "respecting the faith of the characters because it's true to the characters. I think that's what's going on in the best moments of The Simpsons…Marge's faith is respected because that is a huge part of who she is as a character. Homer has no faith, so we use him to tromp over Marge's faith, or whatever needs to be done comedically." At times, the show does seem to engage in "blasphemy for blasphemy's sake, an omni-directional assault on all that's sacred." It helps, he says, that "no one really takes its blasphemy seriously…The things that should be mocked are mocked, and the things that shouldn't be mocked are mocked."
Tompkins worked on several Simpsons episodes that dealt with religion, the church and faith, including the one in which Ned, like the Bible's Job, has his faith tested. "There is a tremendous amount of affection for Ned" among the writers, he said. That episode, "Hurricane Neddy," used as its comedic premise a faithful Christian singled out for devastation, and "how a person behaves in times of crisis." Still, he insisted that, for the most part, he is a secular writer. "I had no ax to grind at The Simpsons…I believe the quality of humor is in indirect proportion to one's true belief…The more those beliefs are put in, the less funny it gets…The characters on The Simpsons do not represent the writers' faith." This is in contrast to Touched by an Angel, where, he said, "the stories those show-runners are creating really represent the way the world should be, could be." Touched by an Angel takes a more direct approach, using its content to communicate the message, Tompkins said, a conscious choice which works well for that show. "The Simpsons doesn't do that. The mark of good writing is letting the message be true to the characters, to honor their beliefs and keep them sacred to the character."
© 2001 Mark I. Pinsky (mark@markpinsky.com)
An excerpt from "The Gospel According to The Simpsons: The Spiritual Life of the World's Most Animated Family" by Mark I. Pinsky.

Leader's Guide for Group Study companion to the book is also available.

Used by permission of Westminster John Knox Press, 1-800-227-2872, www.ppcpub.com.
Acquaint yourself with Mark Pinsky's articles: [1] [2] [3] [4]

Listen to an audio interview with Mark Pinsky.

Another excerpt from the book is available at Sojourners.