D'oh! Bugs Bunny Edges Out Homer Simpson

TV Guide Press Release - July 26, 2002
---
On Newsstands: Monday, July 29, 2002
Issue Date: August 3, 2002
D'OH! BUGS BUNNY EDGES OUT HOMER SIMPSON AS TV GUIDE CONTINUES ITS 50TH ANNIVERSARY CELEBRATION BY NAMING THE 50 GREATEST CARTOON CHARACTERS OF ALL TIME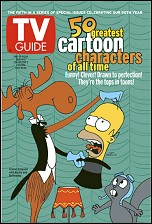 In its August 3 issue (on newsstands Monday, July 29), TV Guide® magazine continues the 50th anniversary celebration of the TV Guide brand by naming the 50 greatest cartoon characters of all time. Bugs Bunny tops the list compiled by TV Guide editors, followed by Homer Simpson and the duo of Rocky and Bullwinkle. MTV's Beavis and Butt-Head share honors at number four, with The Grinch rounding out the top five.
The special issue features four special animated collector's covers, each featuring an exclusive combination of characters not usually associated with each other. One cover has Angelica Pickles of Rugrats pulling a football away as Charlie Brown tries to kick it; one has Bullwinkle pulling the head of Homer Simpson out of a hat as Rocky looks on; one has Popeye pulling up an anchor from the side of the boat to find SpongeBob SquarePants on the end of it; a fourth cover features Daffy Duck and Porky Pig in a spaceship as the Powerpuff Girls fly by.
Rounding out the top ten are #6 Fred Flintstone and Barney Rubble, #7 Angelica Pickles from Rugrats, #8 Charlie Brown and Snoopy, #9 SpongeBob SquarePants and #10 Cartman from South Park.
The list is part of a year-long celebration of the golden anniversary of the TV Guide brand. Anniversary-related initiatives include special monthly editorial features appearing across all TV Guide branded platforms, television specials, and additional special events.
SET OF FOUR COLLECTOR'S COVERS CAN BE PURCHASED ONLINE AT TV GUIDE STORE:
A complete set of the four 50 greatest cartoon characters collector's covers will be available for purchase online at the TV Guide Store (shop.tvguide.com) beginning Monday, July 29.
WHAT WAS ON SATURDAY MORNING TV 50 YEARS AGO? FIND OUT AT TV GUIDE ONLINE:
TV Guide Online (www.tvguide.com) will support the 50 greatest cartoon characters announcement by giving fans the chance to see what has been on Saturday morning television since TV Guide first began 50 years ago. Users can log on to tvguide.com to find Saturday morning TV grids from the 1950's to the present. Also available are descriptions of classic cartoon shows.
CELEBS WEIGH IN ON THEIR FAVORITE 'TOON CHARACTERS ON THE TV GUIDE CHANNEL:
The TV Guide Channel will also celebrate the announcement of the 50 greatest cartoon characters of all time with "Hollywood Insider" segments featuring celebrities talking about their favorite cartoon characters. Additional segments feature some of the famous voices behind the characters, including the voices of SpongeBob SquarePants, Rocky (from Rocky and Bullwinkle) and Buttercup (of the Powerpuff Girls).
TV GUIDE'S 50 GREATEST CARTOON CHARACTERS OF ALL TIME
Bugs Bunny
Homer Simpson
Rocky and Bullwinkle
Beavis and Butt-Head
The Grinch
Fred Flintstone & Barney Rubble
Angelica Pickles
Charlie Brown and Snoopy
SpongeBob SquarePants
Cartman from South Park
Bart and Lisa Simpson
Fat Albert
The Powerpuff Girls
Daffy Duck
Pikachu
Gumby
Betty Boop
Top Cat
Mickey Mouse
Popeye
Gerald McBoing-Boing
Scooby-Doo
Underdog
Josie and the Pussycats
Heckle and Jeckle
Arthur
Winnie the Pooh
Felix The Cat
Mr. Magoo
George of the Jungle
Ren and Stimpy
Tom Terrific
Tweety and Sylvester
Bill from Schoolhouse Rock
Space Ghost
Yogi Bear and Boo Boo
Mighty Mouse
Wile E. Coyote and Road Runner
Superman
Batman
Daria
Wonder Woman
Donald Duck
Alvin (The Chipmunk)
Boris Badenov and Natasha Fatale
Woody Woodpecker
Porky Pig
Bobby Hill from King of the Hill
Speed Racer
Tom and Jerry
###
---
[ FAQs, Guides & Lists | Upcoming Episodes | Episode Guide | Capsules | Miscellaneous | Web Links | News | About | Home ]

Last updated on July 26, 2002 by Jouni Paakkinen (jouni@snpp.com)
---