Homer Simpson for President!

Fox Press Release - October 28, 2004
---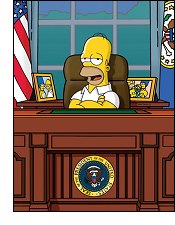 Homer Simpson in 2004! Everyman Homer Simpson would be the ideal candidate for President of the United States, it was reported today by local Springfield news anchor Kent Brockman. Simpson detailed his would-be platform after downing several cans of Duff beer at his favorite watering hole, Moe's Tavern. Simpson has yet to name his running mate, but it is rumored to be either Barney, Moe, Lenny or Carl. It is unlikely Homer would choose Krusty the Clown, given Krusty's failed bid for the presidency in 1992. Vowing to make a change, Simpson revealed the following campaign platform:
HOMER SIMPSON'S CAMPAIGN PLATFORM
A friend to one, a friend to all. (Except Flanders.)
There is nothing to fear except fear itself. Oh... and fear of the voices... the constant voices telling me to do things... bad things.
I promise there will be fewer nuclear disasters with me as your President than with me as your nuclear safety inspector.
I will fill the pot holes, help the pot heads and eat the pot pies.
I will put a man on Mars within the decade. That man will be Flanders. And he will not return.
No big government, just big waist sizes.
Children are the future. That's why they must be stopped today.
I will make the trains run on time. On second thought, coal might be better. I will make the trains run on coal.
I will legalize the hunting of sisters-in-law.
Repeal all taxes... make Sweden pay for everything.
Homer and the rest of THE SIMPSONS are back for an epic 16th season beginning with all-new episodes Sunday, Nov. 7 (8:00-8:30 PM ET/PT) on FOX.

THE SIMPSONS is a Gracie Films Production in association with 20th Century Fox Television. James L. Brooks, Matt Groening and Al Jean are the executive producers. Film Roman is the animation house.
---
[ FAQs, Guides & Lists | Upcoming Episodes | Episode Guide | Capsules | Miscellaneous | Web Links | News | About | Home ]

Last updated on October 28, 2004 by webmaster@snpp.com
---