The Cartoon Music Book

Independent Publishers Group Press Release - October 2002
---
From Elmer Fudd's classic "Kill the Wabbit" to Mr. Burns' rousing Disney parody "See My Vest," cartoon music is intelligent, hilarious and an art form in its own right
CHICAGO: They are the songs of our childhood, accompanying the cross-dressing shenanigans of Bugs Bunny and the rowdy hi-jinx of Tom and Jerry, the soundtrack for dancing mushrooms and pink elephants on parade. But as beloved as these cartoons and their essential scores are, serious film, television and music critics have often dismissed them as mere childish entertainment. With the increasing interest in the work of cartoon music composers like Warner Brother's legendary Carl Stalling, however, critics and fans are starting to recognize cartoon music as a unique art form, one that is fundamental to great animated entertainment and serves as a cultural touchstone for generations.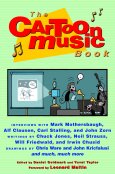 The Cartoon Music Book (A Cappella Books, an imprint of Chicago Review Press, November 2002), edited by animation music historian Daniel Goldmark and A Cappella Books editor Yuval Taylor, is one of the first books to seriously examine the importance and the brilliance of cartoon music from the glory days of Disney and Warner Brothers to today's revival with television shows like Rugrats and The Simpsons. This compilation of critical essays and rare interviews, most of which were written specifically for this book, includes contributions from such notables as Leonard Maltin and Barry Hansen, aka radio's Dr. Demento, all taking the silliest of music genres seriously.
For many, cartoons were an early introduction to music, particularly classical and jazz. The very names of the series, Merrie Melodies, Silly Symphonies and Loony Tunes, emphasized the importance of music. The contributors to The Cartoon Music Book point out that Rossini's William Tell Overture and Franz Liszt's second Hungarian Rhapsody, both classical selections, have been so often used that they have become synonymous with cartoon music. And who could forget Elmer Fudd's interpretation of the Valkyrie leitmotif from Wagner's Die Walküre-"Kill the Wabbit?"
Cartoon musicians also made ingenious use of jazz according to the essayists in The Cartoon Music Book. From the sexually charged collaborations between the Fleischer Studio (home of Betty Boop and Popeye) and Cab Calloway and Louis Armstrong, to the almost epidemic use of Raymond Scott's novelty piece, "Powerhouse," jazz has brought life to chase scenes and conveyer belt mayhem for decades.
"In really great cartoons, you can't help but recognize the pervasiveness of the music," says Goldmark. "In fact, I learned to play the piano as a child solely because I wanted to play the pieces I heard Bugs Bunny play in his cartoons."
The Cartoon Music pays overdue homage to the musicians whose on-demand, on-deadline compositions have made us laugh and ensured that we can't get the theme to "The Flintstones" out of our heads. With an accompanying discography, artwork from Chris Ware and John Kricfalusi and an introduction by Leonard Maltin, The Cartoon Music Book gives cartoon music composers and their work the serious attention they deserve.
Title: The Cartoon Music Book;
Editors: Daniel Goldmark and Yuval Taylor
Music, 304 pages, 6 x 9; 30 b&w photos, 20 line drawings; Paper, $18.95 1-55652-473-0
Publication date: November 2002;
Publisher: A Cappella Books

Available in bookstores nationally and through Independent Publishers Group, 814 N. Franklin Street, Chicago, IL 60610. Toll-free number for orders only: 1-800-888-4741. Please visit us on the Internet at http://www.ipgbook.com/.
---
About the Contributors
Jake Austen edits Roctober, the journal of popular music's dynamic obscurities, and produces the cable access children's dance show Chic-A-Go-Go. His work has appeared in Nickelodeon magazine, Playboy, Spice Capades: The Spice Girl Comic Book and Bubblegum Music Is the Naked Truth.
Michael Barrier founded and edited Funnyworld: The World of Animated Films and Comic Art, the first serious magazine devoted to those subjects. He is the author of Hollywood Cartoons: American Animation in Its Golden Age.
Philip Brophy is director of the CINESONIC International Conference on Film Scores and Sound Design, as well as a sound designer and film composer. He has published widely on the subject, including The Wire, Real Time and Film Comment.
Ross Care's score for a west coast revival of Tennessee William's The Glass Menagerie was recently called "enormously effective" by the Los Angeles Times. As a critic Care also writes on film and music for the genre magazine Scarlet Street and the Library of Congress.
Irwin Chusid is Director of the Raymond Scott Archives, and author of Songs in the Key of Z: The Curious Universe of Outsider Music. He has been a radio personality on WFMU since 1975.
John Corbett is a writer and producer based in Chicago. He is the author of Extended Play: Sounding Off from John Cage to Dr. Funkenstein and Microgroove: Further Forays into Other Music and his "Vinyl Freak" column appears monthly in Down Beat magazine. Corbett is adjunct associate professor at the School of the Art Institute and was appointed Artistic Director of the 2002 Berlin JazzFest.
Greg Ehrbar, a twice Grammy-nominated writer/producer, compiled the Toon Tunes and Billboard Family Classics series for Rhino records. A Disney veteran, he has written network TV specials; numerous film adaptations for books and audio; and award-winning ads for TV, print and radio. He also has edited a popular music magazine and helped bring vintage Golden Records to CD.
Will Friedwald is the author of seven books: four on popular music and jazz, including Jazz Singing, Sinatra! The Song is You, The Good Life (with Tony Bennett) and Star Dust Melodies: The Biography of 12 of America's Most Popular Songs, and three on animated films, including The Warner Bros. Cartoons and Looney Tunes and Merrie Melodies. He is also a contributor to The Future of Jazz and the morning host of Standard Time on Sirius Satellite Radio (www.siriusradio.com).
Daniel Goldmark is an assistant professor of musicology at the University of Alabama in Tuscaloosa, Alabama. His Tunes for 'Tunes: Music and the Hollywood Animated Cartoon will be published by the University of California Press. Daniel also worked as an editor and producer for Rhino Entertainment in Los Angeles, where he produced cartoon music-related collections like Crash! Bang! Boom! The Best of Warner Bros. Sounds FX and That's All Folks! Cartoon Songs from Merrie Melodies and Looney Tunes, and as an archivist and music coordinator for Spumco Animation.
Charles L. (Chuck) Granata is a record producer, music historian and author of the award-winning book Sessions With Sinatra: Frank Sinatra and the Art of Recording.
Barry Hansen, writer, musicologist and music maven, is better known as Dr. Demento, host to radio's weekly two-hour festival of "mad music and crazy comedy," heard on nearly one hundred stations coast-to-coast since 1970.
John Kricfalusi is the creator of The Ren & Stimpy Show.
Joseph Lanza is the author of Elevator Music: A Surreal History of Muzak, Easy-Listening and Other Moodsong. He was also executive producer for a two-disc collection entitled Music for TV Dinners that includes several of the tracks discussed in his essay. His next book is about the legendary crooner Russ Columbo.
Leonard Maltin is the author of The Disney Films (1973, revised in 2000). He is also the author of Of Mice and Magic: A History of American Animated Cartoons, and an annual paperback reference, Leonard Maltin's Movie & Video Guide, which he has edited since 1969. Since 1982 he has been a commentator and interviewer on television's Entertainment Tonight, and now co-hosts the weekend movie panel show Hot Ticket. He also serves as film critic and columnist for Playboy magazine. He teaches at the University of Southern California, hosts a daily syndicated radio feature and appears regularly on the Encore cable TV network. His most recent video project is a series of DVDs called Walt Disney Treasures, which he hosts and co-produces. He has appeared in animated form on episodes of South Park and Freakazoid.
Milo Miles has worked as a music journalist and editor for many years. He is a regular contributor to the New York Times, Rolling Stone, the Village Voice and National Public Radio's Fresh Air.
Stuart Nicholson is the author of several books on jazz, including highly acclaimed biographies of Ella Fitzgerald, Duke Ellington and Billie Holiday and is a contributor to The Future of Jazz. He has written extensively on jazz for newspapers and magazines in both the United States and Europe.
Neil Strauss is a pop music critic and cultural correspondent at the New York Times. He also writes regularly for Rolling Stone. He co-wrote the New York Times bestsellers The Long Hard Road Out of Hell with Marilyn Manson, The Dirt with Motley Crue, and he edited a book of radio-related writings called Radiotext(e). If he could switch places with any prominent figure in the whole world, Neil Strauss would choose Bugs Bunny.
Yuval Taylor, also editor of The Future of Jazz and I Was Born a Slave: An Anthology of Classic Slave Narratives has worked as an editor at Da Capo Press, A Cappella Books and Lawrence Hill Books.
Elisabeth Vincentelli is music editor at Time Out New York. Born and raised in France, she now lives in Brooklyn.
Chris Ware was born in 1967 in Omaha, Nebraska, and is the author of Jimmy Corrigan, the Smartest Kid on Earth (Pantheon) and The ACME Novelty Library series of booklets and pamphlets (1993-present), and is erstwhile editor of the music journal The Rag Time Ephemeralist. He lives in Chicago.
Kevin Whitehead is the author of New Dutch Swing (Billboard Books), about improvised music in Amsterdam, and is jazz critic for NPR's Fresh Air. He is also a contributor to The Future of jazz, writes for the Chicago Reader and co-hosts a weekly show on WNUR-FM.
David Wondrich writes about music and alcohol for publications such as Esquire, the New York Times, the Village Voice, Williams-Sonoma Taste and Gotham. He lives in Brooklyn, New York.
---
[ FAQs, Guides & Lists | Upcoming Episodes | Episode Guide | Capsules | Miscellaneous | Web Links | News | About | Home ]

Last updated on October 25, 2002 by Jouni Paakkinen (jouni@snpp.com)