Simpsons Bowling Club

Brunswick Press Release - February 25, 2005
---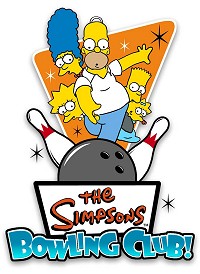 GET A FREE SIMPSONS BOWLING BALL WHEN YOU BOWL AT A BRUNSWICK BOWLING CENTER
Participants To Receive One-Of-A-Kind Simpsons Bowling Ball Upon Completion Of Program; Clubs Launch In March 2005
LAKE FOREST, Ill. Feb. 25, 2005- Starting March 2005, Brunswick Zone and Brunswick Recreation Center locations throughout the United States and Canada will offer the exclusive SIMPSONS BOWLING CLUB. Brunswick owned and operated bowling centers across North America will be signing up teams to participate in clubs at more than 100 Brunswick locations. All participants will receive a one-of-a-kind "Simpsons" Viz-A-BallŽ bowling ball upon completion of the 8 to 12 week bowling club, choosing from three exciting and colorful designs, featuring the whole Simpson clan, including Homer, Bart and the Pin Pals.
"We were extremely pleased to enter into this exclusive agreement with Fox Licensing & Merchandising to develop these totally unique Simpsons bowling balls," said Don Jones, director of marketing-retail for Brunswick Bowling & Billiards. "Now, Simpsons fans can have a great time bowling with their friends in a very affordable Simpsons Bowling Club and receive one of these exclusive bowling balls, too!"

About THE SIMPSONS
Homer, Marge, Bart, Lisa and Maggie take traditional family life and turn them upside down in FOX's critically acclaimed series, THE SIMPSONS. Exploding into a cultural phenomenon in 1990, THE SIMPSONS remains one of the most visible and marketable properties, both domestically and internationally. This Emmy AwardŽ-winning series is now in the history books as the longest-running sitcom currently on television, and the longest-running animated show in television history. THE SIMPSONS is also noted for its famous celebrity guest voices such as Michelle Pfeiffer, Mel Gibson, Elizabeth Taylor, Kim Basinger, Danny DeVito and musical guests Mick Jagger, Keith Richards, Britney Spears and Aerosmith. THE SIMPSONS is currently airing their 16th season.
About Twentieth Century Fox Licensing & Merchandising
A recognized industry leader, Twentieth Century Fox Licensing and Merchandising licenses and markets properties worldwide on behalf of Twentieth Century Fox Film Corporation, Twentieth Television and Fox Broadcasting Company, as well as third party lines. The division is aligned with Twentieth Century Fox Television, one of the top suppliers of primetime entertainment programming to the broadcast networks
About Brunswick
Headquartered in Lake Forest, Ill., Brunswick Bowling & Billiards is one of the largest operators of full-service bowling and family recreation centers in North America, and is a full-line supplier of bowling equipment, supplies, and consumer products. To locate a Brunswick Zone or Brunswick Recreation Center near you, visit our website at www.brunswickbowling.com.
---
[ FAQs, Guides & Lists | Upcoming Episodes | Episode Guide | Capsules | Miscellaneous | Web Links | News | About | Home ]

Last updated on February 25, 2005 by webmaster@snpp.com
---