---

Dear Abby Snookered
By Andrew A. Gill (andrew@snpp.com) - March 13, 2004

Dear Abby,
My husband, Hom--let's call him Pedro recently bought me a bowling ball for my birthday. I've never bowled in my life, and the holes were sized for his fingers and he had his name engraved on the ball.

Out of spite, I took up bowling lessons and fell in love with the instructor. Pedro knows that something's going on; he found the bowling glove with my name embroidered on it that my lover gave me as a gift. I don't think I love Pedro anymore. What should I do?
Sound familliar? A newspaper editor thought so, when a letter very similar to the one above was sent to the advice column and excised the letter from last week's column. In it, the author (who calls herself "Stuck in a Love Triangle" and her husband "Gene") seems to echo the plight of one Marge Simpson, from an episode of The Simpsons entitled Life on the Fast Lane. It appears that versions of the column that ran on or prior to March 7 may have included the letter, though the column may not have been printed at all prior to the 8th.
There has been no confirmation of whether the columnist will take on the challenge of Marge, 34, "trapped in a loveless sham of a marriage" with Pedro, who she claims used to be "sweeter and more romantic, and forty pounds thinner, and he had hair And he ate with utensils!"



Season 4 DVD Set Announced
Courtesy of Fox Home Entertainment - March 12, 2004

On June 15, 2004, "The Simpsons: The Complete Fourth Season" debuts from Fox Home Entertainment. Following the record-breaking Season One, Two and Three DVD releases, selling over five million DVDs to-date, "The Complete Fourth Season" features all 22 episodes from the fourth season (1992-1993) from the longest-running comedy series in primetime. Featuring exclusive bonus material including commentary on each episode, an introduction by Matt Groening, a voiceover featurette with James L. Brooks, an Animation Showcase multi-angle feature, animatics, commercials, deleted scenes and more, the four-disc collection arrives at a suggested retail of$49.98 US / $69.98 Canada.
All episodes are compiled on four discs (full frame, aspect ratio 1.33:1). Each episode in the region 1 edition is presented with English 5.1 Surround, Spanish Dolby Surround, French Dolby Surround Sound and Spanish subtitles. Total running time is 506 minutes.
The release dates outside the USA and Canada have not been announced yet. Keep an eye on our DVD News page, where further details will be posted as soon as they become available.
Based on a Fox Home press release as posted by TV Shows on DVD

Simpsons Archive Turns 10
By Jouni Paakkinen (jouni@snpp.com) - March 5, 2004
The first known cyber-archive of Simpsons information was opened on the Widener University FTP server shortly after the show's premiere in December of 1989. That archive, created and maintained by members of the alt.tv.simpsons newsgroup, included a small assortment of lists, frequently asked questions, and episode capsules, nearly all of which have survived to the present in one form or another.
With founder Brendan Kehoe's departure from Widener and the popularization of the World Wide Web, a new Simpsons Archive was established
by Gary Goldberg in March of 1994 to provide a new home for all the informal Simpsons content previously at Widener -- and for all of that which had yet to be written. The site was soon moved to a new web server at Digimark, where in August of the following year it took on its present snpp.com domain name. (If it's still a mystery to you, SNPP stands for Springfield Nuclear Power Plant.)
In the early days, SNPP carried an extensive collection of movie clips, images, and sounds in addition to its existing archive of text documents. However, in 1995, and with the encouragement of Fox, the site made information its sole focus. A new interactive feature was added in 1996, when the Simpsons-L discussion list was started as a moderated alternative to alt.tv.simpsons.
The current version of the site, with several new sections including its news area, was launched in May of 1998. In the years since, SNPP has grown rapidly both in its membership ranks and in the quantity of infotainment certain to excessively satiate the hardest of hardcore Simpsons junkies. Today, it carries hundreds of documents updated by more than 50 maintainers from around the world, with its focus still set on no-frills, encyclopedic knowledge-basing of everything to do with The Simpsons.
None of this would be possible without the legions of fans who have continued to submit new information throughout the past decade. SNPP's staff would like to thank all visitors for their ongoing support, and the creators of the show for offering us 15 seasons of material to dissect and hyper-analyze. ;-) Very special thanks are also in place for Gary Goldberg, who, after a decade, continues to host the site free of charge as a dedication to the best animated series of all time.


Nominations for Writers', Kids' and Annie Awards
By Jouni Paakkinen (jouni@snpp.com) - January 21, 2004
The writers of The Simpsons are highly acclaimed by their colleagues in the industry, as the show received three nominations – more than any other comedy show – in the 56th annual Writers Guild of America Awards.
In the category of animation writing, our favorite family earned three nominations for three episodes of the 14th and 15th season. Nominated are Matt Selman for "The Dad Who Knew Too Little," J. Stewart Burns for "Moe Baby Blues" and Michael Price for "My Mother the Carjacker." Also nominated were writers of King of the Hill, The Adventures of Jimmy Neutron, Boy Genius and Matt Groening's Futurama.
The Writers Guild of America gives its awards for the best scriptwriting in TV, radio and film. Winners will be announced on February 21. Visit wga.org for more information.
This week, The Simpsons also got nominated in Nickelodeon's 17th Annual Kids' Choice Awards, in the "Favorite Cartoon" category. Votes are collected online on nick.com beginning on March 8 and by a toll-free number (March 24 – March 28). A live telecast from the ceremony, hosted by Cameron Diaz and Mike Myers, takes place on April 3.
Previously this month, Asifa-Hollywood – a non-profit organization devoted to the advancement of animation – nominated The Simpsons for four Annie Awards. In addition to the category of the best animated TV show, nominations were given for directing (Steven Dean Moore - "'Scuse Me While I Miss The Sky"), writing (Matt Warburton - "Three Gays of the Condo") and music (Alf Clausen, Ian Maxtone-Graham & Ken Keeler - "Dude, Where's My Ranch?").
The Annie winners are announced on February 7 at the 31th Annual Annie Awards Ceremony. See Annie Awards site for details.
For a rundown of previous awards garnered by The Simpsons, visit our "Awards & Honors" page.
Update (02/08) The Simpsons won the Annie Award for best animated television production.
Update (02/21) Matt Selman won the Writers Guild of America Award for writing "The Dad Who Knew Too Little."


The Simpsons vs. Society & Politics
By Jouni Paakkinen (jouni@snpp.com) - November 3, 2003
The Simpsons fans will get their hands on two new, interesting books this fall. The first one, already available in select bookstores, discusses the show in relation to contemporary society. Before the end of the year, a second book, focusing on The Simpsons as political satire, will also be released.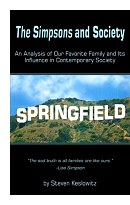 In "The Simpsons and Society: An Analysis of Our Favorite Family and Its Influence in Contemporary Society," author Steven Keslowitz discusses whether Homer is a good father, if Bart is America's "bad boy," the possibility of Maggie forever remaining quiet, and whether Lisa is truly a "Simpson."
Additionally, Keslowitz analyzes the actions and mindset of capitalist Mr Burns. And, just for fun, an analysis on the importance of Marge's hair is included to boot.
The 150-page print-on-demand book also contains essays pertaining to medical malpractice, media culture, American exceptionalism, how The Simpsons matches up against other TV sitcoms, Simpsonian news and views, Descartes' "Evil Genius" argument, American industrialization, and more.
A special excerpt from "The Simpsons and Society" is also available at The Simpsons Archive.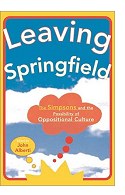 The other book, "Leaving Springfield: The Simpsons and the Possibility of Oppositional Culture" addresses the success of The Simpsons as a corporate-manufactured show that openly and self-reflexively parodies the consumer capitalism it simultaneously promotes. "The book is about politics and The Simpsons, although not politics in the narrow or technical sense," says editor John Alberti, Associate Professor at the Northern Kentucky University. "Can we see The Simpsons as a form of protest? Or does it represent the final co-optation of dissent as just another marketing strategy?"
Available in late December, "Leaving Springfield" contains 13 essays from different authors that cover a number of topics and issues. One such essay by Matthew Henry focuses on gay life and the treatment of homophobia, while another by Vincent Brook examines viewers' reactions and interpretations of the show's politics. In addition, Douglass Rushkoff's essay makes a strong case for The Simpsons as contemporary counter-culture, and Duncan Stuart Beard examines reactions to The Simpsons outside of the United States.
Alberti has tried to put together a collection of essays with a high level of scholarship that would interest an academic audience, but that is also accessible and sufficiently well-written for any serious fan of the show. "I'm very interested in their reactions to what we have to say in the book," he says. "I'm curious about how other fans understand the relation between their own political views and activities and The Simpsons."
Read an excerpt from "Leaving Springfield."



Emmy for "Three Gays of the Condo"
By Don Del Grande (ddelgran@snpp.com) - September 14, 2003
The Simpsons won the Emmy for Animated Program (One Hour or Less) for "Three Gays of the Condo". The other nominees were the "Futurama," "As Told By Ginger," "Kim Possible" and "SpongeBob SquarePants."
Receiving Emmys for the show are:




Executive Producers - James L. Brooks, Matt Groening, Al Jean
Co-Executive Producers - Ian Maxtone-Graham, Matt Selman, Dan Greaney, Carolyn Omine, Tim Long, John Frink, Don Payne, Dana Gould, Kevin Curran
Supervising Producer - Larina Jean Adamson
Supervising Director - Jim Reardon
Writer - Matt Warburton
Director - Mark Kirkland
Animation Producers - Mike Wolf, Laurie Biernacki, Rick Polizzi
Assistant Director - Matthew Faughnan
Animation Timer - Milton Gray

Under a new rule allowing only "14 producers, three writers, and four directors" to actually get Emmys, the following people credited on the show who would have won Emmys in past years did not get one for this episode:




Co-Executive Producer - Brian Kelley, J. Stewart Burns, Michael Price
Producer - George Meyer, Ron Hauge, Tom Gammill, Max Pross, Mike Scully, David Mirkin, Mike Reiss, Marc Wilmore, Richard Raynis, Bonita Pietila, Denise Sirkot, Richard Sakai (the last four were credited "Produced By")
Animation Producer - John Hyde

In the Music and Lyrics (i.e. Original Song) category, "Everybody Hates Ned Flanders" lost out to "Aren't They All Our Children?" from ABC's "The Concert for World Children's Day." The other nominees were from "It's a Very Merry Muppet Christmas Movie" and two from Nickelodeon's "The Fairly Oddparents" Valentine's Day episode.
A heavily edited version of the ceremony (squeezing three hours of show plus commercials into two hours) will be on E! on Friday night at 5:00 PM. The current cast of "MadTV" are hosting the awards. Note that because of additional categories added this year, the Academy decided to move 15 of the "individual achievement" awards to a pre-ceremony.